Hungarian treats offered with plenty of pizzazz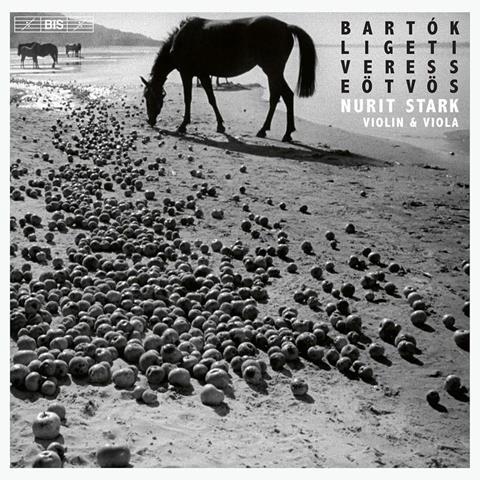 The Strad Issue: September 2022
Description; Hungarian treats offered with plenty of pizzazz
Musicians: Nurit Stark (violin, viola)
Works: Bartók: Sonata for solo violin. Ligeti: Sonata for solo viola. Veress: Sonata for solo violin. Eötvös: Adventures of the Dominant Seventh Chord
Catalogue number: BIS BIS-2416
Alongside its all-Hungarian, all-solo instrument track list, there's also a thread of teacher–student connections bringing together the music on this compelling disc from Israeli-born Nurit Stark. Béla Bartók taught Sándor Veress, who taught György Ligeti, who might not have directly taught Peter Eötvös but nonetheless recommended him for a place at Budapest's Liszt Academy. More importantly, however, Stark's own assertive, driven, richly flavoured interpretations provide another unifying thread through this colourful and diverse repertoire.
She sets out her fantastical yet carefully considered approach right from the opening 'Chaconne' of the Bartók Sonata, bathed in lavish rubato and eloquent decoration, but never lacking in forward movement. There's some exquisitely beautiful playing in her thoughtful 'Melodia' slow movement, while her dashing finale is full of explosive energy.
Ligeti's Solo Viola Sonata offers even more opportunities for flamboyant exuberance, which Stark conveys in the ear-bending microtones of its opening 'Hora lungă' and the buoyant cascades of notes in its breathless 'Prestissimo con sordino'. Veress's 1935 Solo Violin Sonata might be the most traditional work here, but it's also the one in which Stark seems to have the most fun, in the full-throated gypsy abandon of its slow movement and the volatile, unpredictable rhythms of its whirling finale. She's clearly got under the skin, too, of Adventures of the Dominant Seventh Chord (written for her by Eötvös in 2019) and charts a confident course through its restless, often humorous moods.
This is a thoroughly rewarding disc whose big-boned performances are an ideal match for its often larger-than-life repertoire, all of it captured in close, detailed sound.
DAVID KETTLE