For the Modigliani Quartet, working with other artists has always been a priority – one that continues this year as the group turns its attention to Schubert. Charlotte Gardner speaks to the French foursome about working through Covid times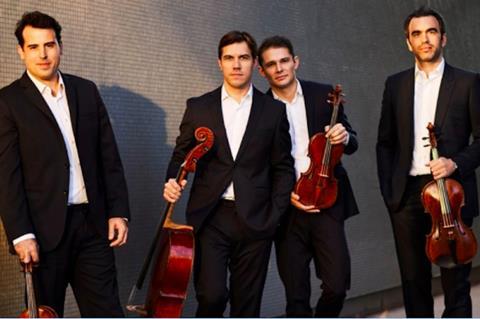 Photo: Jérome Bonnet
The players with their instruments – 1773 and 1780 violins by G.B. Guadagnini, a 1660 viola by Luigi Mariani and a 1706 cello by Matteo Gofriller
The following is an extract from an article in The Strad's February issue in which the Modigliani Quartet talks about the challenges of performing Schubert and the benefits of collaboration. To read in full, click here to subscribe and login. The February 2021 digital magazine and print edition are on sale now.
Let's get back to 2020, when the various strings to the Modigliani Quartet's bow made for a busy life even during two months of separation necessitated by the March lockdown. On the playing front, they reunited virtually with their Schubert Octet recording partners to record an album teaser from their respective homes. Meanwhile, with their artistic director hats on, they were reimagining Rencontres Musicales d'Évian as a smaller, virtual festival to be broadcast on radio and medici.tv, although eventually the Swiss Covid measures relaxed enough for a small audience to be possible.
They also joined with other artists including the Ébène and Diotima quartets and pianist David Fray to publish an open letter to the French government highlighting the plight of independent musicians who didn't qualify for state salary compensation owing to the fact that they performed in multiple countries. e government responded with the creation of a fund.
Read: 'We see playing with others as an important means of nourishment' – Modigliani Quartet
Read: Modigliani Quartet: the more the merrier
Then the Île-de-France authorities approached them with a view to creating something more, and the quartet responded by joining with Fray, plus violist Gérard Caussé and stage director Jean-Paul Scarpitta, aided by private partners, to create Concerts au Potagers du Roi: a 20-concert outdoor festival in the Versailles kitchen gardens featuring 70 rising and established musicians, many of whom hadn't performed since lockdown – from the Arod Quartet and cellist Bruno Philippe, to violinist Renaud Capuçon and pianist Nicholas Angelich. All of it was organised from scratch in just weeks, with no availability issues. 'It was interesting,' comments second violinist Loïc Rio. 'Usually, we know what we will be playing in two years' time, whereas I don't even know what I want to eat at the restaurant tonight! So equally with this coming season, with all the big planned projects that will be cancelled, it's about how we can react quickly and say, "But today everything is possible, so we can play a Schubert quintet tonight and it will be great."'
This article was published in the February 2021 Modigliani Quartet issue

The French ensemble on directing festivals, the challenges of performing Schubert and the benefits of collaboration. Explore all the articles in this issue .Explore all the articles in this issue

More from this issue…