A notable contemporary viola concerto from an acclaimed Latvian composer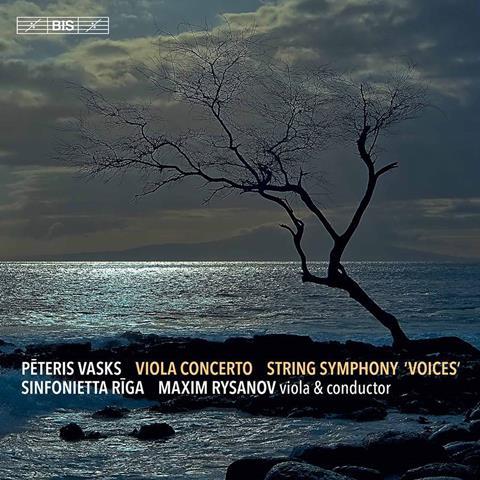 The Strad Issue: August 2020
Description: A notable contemporary viola concerto from an acclaimed Latvian composer
Musicians: Riga Sinfonietta/Maxim Rysanov (viola)
Works: Vasks: Viola Concerto; Symphony for Strings
Catalogue Number: BIS BIS2443
As an accomplished double bassist, Pēteris Vasks understands from the inside how to write for lower strings, and the solo voice of his Viola Concerto (2014) is haloed rather than clouded by the strings-only accompaniment. Indeed, natural images spring readily to mind in music that grows and evolves at the pace of dawn and dusk through the course of four, mostly moderately paced and seamlessly linked movements. Even the scherzo, placed second, dances with a rustic, stamping gait that Vaughan Williams would have recognised, as he would the open, modally inflected harmonies.
The elegiac mood of a long, cantabile Andante is answered not by a quick finale but further intensified by a slow, deeply felt epilogue with a central Tchaikovskian outburst in 'Pathétique' mode. Keeping inertia and introversion at bay with a finely calibrated sense of dramatic timing, Vasks places a heavy burden on his soloist with extended cadenzas in both central movements, playing to the strengths of the concerto's dedicatee, Maxim Rysanov, who demonstrates authority as well as sympathy over every aspect of this premiere recording. His tone radiates warmth and serenity even as the closing pages send the soloist into the viola's snow line.
Earnest sincerity rather overwhelms the String Symphony from 1991, marking Latvia's new independence with three movements of delicate textures but unsparing testimony; I enjoyed the new Riga Sinfonietta recording more than the original Riga Philharmonic version on Conifer, not least for the warmth and detail of the BIS engineering.
PETER QUANTRILL
Reference
A notable contemporary viola concerto from an acclaimed Latvian composer