Leah Hollingsworth hears the virtual performance of Dvořák, Schubert and Hannah Lash from Baltimore's Shriver Concert Hall on 2 May 2021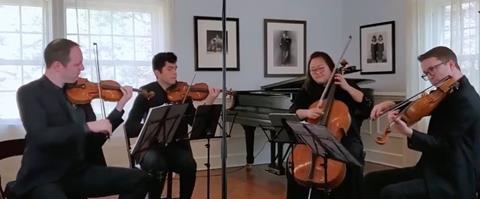 Calidore Quartet
Shriver Hall Concert Series, Baltimore, MD, 2 May 2021
The Calidore Quartet's bold interpretation of Dvořák's 'American' Quartet was entirely absorbing, even on a screen. Jeffrey Myers' warm sound led the quartet well, and I especially appreciated the tenderness with which he often played – a lovely contrast to the energy in the more aggressive sections. The Lento was not overly slow or nostalgic, but played quite elegantly; the cello solo by Estelle Choi was a standout. The Molto vivace was taken at a moderate tempo, stately and elegant, full of character and charm.
The streaming world premiere of Hannah Lash's Quartet no.1 followed the Dvořák and was performed with commitment and strong sense of overall architecture. The first movement was minimalist with the repetition of a fluttery three-note motif throughout, while the second movement featured harsh open-5th double-stops interspersed with flightly ponticello lines which mirrored the driving rhythmic patterns of the double-stops. The third movement opened with a sophisticated and deeply felt first violin solo played over pizzicato in the lower strings. The movement takes us by surprise when just at the climax, after all instruments have joined in the melody, the upper three return abruptly to pizzicato and the cellist begins to sing (an incredible text written by Lash). The soulful final movement ended the quartet with passion and deep expressivity.
Schubert's great G major Quartet was delightfully performed, filled with colour, contrasts and deep emotion. The texture of the opening was clear and the character contrastingly playful or serious. The drama of the work was wonderfully brought to life and listening to this masterpiece performed so sensitively and powerfully by the Calidores was a deeply fulfilling experience.
LEAH HOLLINGSWORTH