A classic of the cello repertoire from a rising star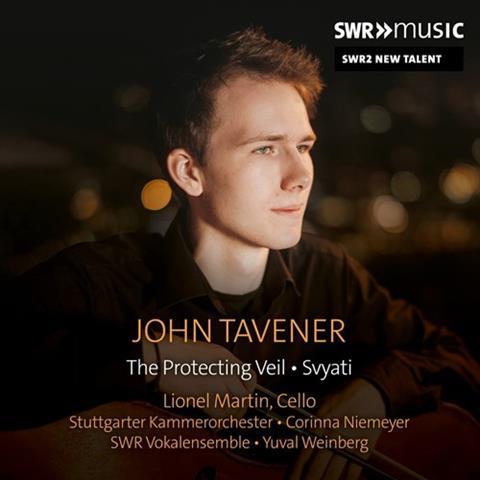 The Strad Issue: June 2023
Description: A classic of the cello repertoire from a rising star
Musicians: Lionel Martin (cello) Stuttgart Chamber Orchestra/Corinna Niemeyer; SWR Vocal Ensemble/Yuval Weinberg
Works: Tavener: The Protecting Veil; Svyati
Catalogue number: SWR MUSIC SWR19122CD
Steven Isserlis's benchmark recording of The Protecting Veil offers the imprimatur of the composer – his long-standing friend. But it's a testament to the strength of this work that it readily accommodates other interpretations, here with Lionel Martin and the Stuttgart Chamber Orchestra.
The piece, in which the solo cello plays continuously for over 45 minutes, demands not only stamina, but a careful feeling for the key dramatic moments within the overall structure too. Lionel Martin has this aspect wonderfully calibrated, guiding the listener along melismatic modal plainchant melodies with a masterful assurance. The high cello line is adorned with piquant quarter-tones that Martin makes so eloquent within the narrative. It's a work whose progress might appear haphazard, yet is rigorously calculated, each of the eight movements descending from high F to low F, with inversions and retrogrades of themes, and motifs reappearing at key points.
In short, drama and music are meticulously created, generating a mesmerising sound world that undulates and shimmers with colour. Amid the otherworldly timbres, 'The Incarnation' and 'The Resurrection' movements don a more assertive rhythmic presence – a feeling of jubilation immersing the music. These swift-changing emotions are compellingly conveyed by Martin and the orchestra, with Corinna Niemeyer eliciting a detailed and charismatic performance.
Equally, the performance of Svyati for cello and chorus is spellbinding. Again, Martin caresses the ululatory cello line, while Yuval Weinberg conducts impressively honed choral singing that is both carefully blended and expressive.
JOANNE TALBOT