Virtuosity and Romanticism combine to heady effect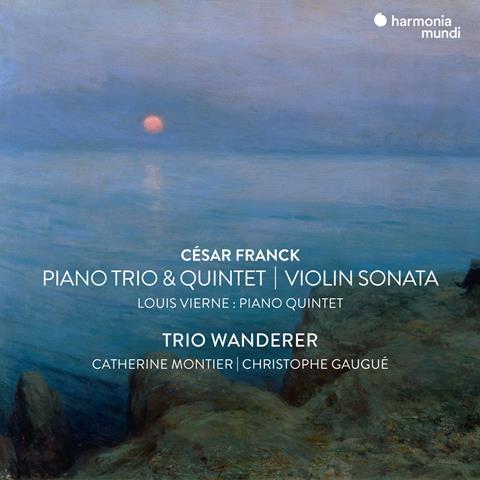 The Strad Issue: June 2023
Description: Virtuosity and Romanticism combine to heady effect
Musicians: Trio Wanderer, Catherine Montier (violin) Christophe Gaugué (viola)
Works: Franck: Piano Quintet; Piano Trio no.1; Violin Sonata. Vierne: Piano Quintet
Catalogue number: HARMONIA MUNDI HMM902318/19 (2 CDs)
Following a well-received survey of Schumann's chamber music, Trio Wanderer turns its focus to Franck, whose output in the genre – save for the ubiquitous Violin Sonata – is perhaps more in need of exposure.
The aforementioned sonata is played by the trio's violinist Jean-Marc Phillips-Varjabédian and pianist Vincent Coq; they give an illuminating and thoughtful reading, with a thrilling finale, though the first movement could occasionally do with more momentum. Franck's early Piano Trio no.1 is perhaps the least inspired piece in the set, but still worth hearing, and the players offer a committed performance.
The two piano quintets – by Franck and by his student Vierne – are the cornerstones of the release. Both are large-scale and explore the idea of thematic transformation so beloved of Franck, and their often imposing quasi-orchestral textures are projected by the players with considerable power.
Vierne wrote his quintet in memory of his son Jacques, who had died, aged 17, in the First World War. Trio Wanderer and friends here contrast the first movement's eerily dark, searching quality with an espressivo second theme of floating lyricism. The climactic tutti is visceral in power, but the emotional heart lies in the second-movement Larghetto, to which the players bring a suitably otherworldly sense of solace.
Franck's more familiar quintet is equally impressive, the musicians revelling in its high-Romantic idiom. They generously apply their virtuosity to it – not least in the challenging piano part, played at its premiere by Saint-Saëns (who, the story goes, deliberately left the manuscript behind after Franck had offered it to him). Well served by a superb balance and acoustic, this is a must for lovers of the French Romantics.
EDWARD BHESANIA