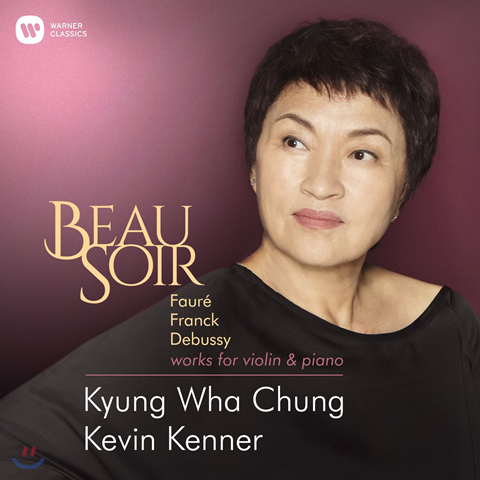 The Strad Issue: July 2018
Description: A beautiful evening recital of French music
Musicians: Kyung Wha Chung (violin), Kevin Kenner (piano)
Works: FAURÉ Violin Sonata in A major op.13; Berceuse op.16. FRANCK Violin Sonata in A major; Panis angelicus (arr. Kenner). DEBUSSY La fille aux cheveux de lin (arr. Hartmann); Beau soir
Catalogue Number: WARNER CLASSICS 0190295708085
This is virtually a small concert of French music with four encores. Kyung Wha Chung and Kevin Kenner have just the right balance of luminous lyricism and drama in Fauré's First Sonata. In the second movement the prevailing sense of reverie, with floated delicate melody shaped by sensitive rubato, becomes something deeper and more intimate where Fauré asks for dolce and pp. Chung's spiccato semiquavers in the Allegro vivo are bone dry and on the scratchy side, and the movement scampers along splendidly. Chung is sinuous in the finale, vividly shaping the flowing melodies.
The performance of Franck's Sonata has the stamp of authority. In the first movement there is expressive and unashamed generosity of rubato and a wide dynamic range. The vigour of the second movement is driven by bowing robust enough to rasp, with big, warm vibrato; by contrast the central quasi lento sounds wispy and vulnerable. The recitative of the third movement is heroic: this is heart-on-sleeve playing, urgent, passionate and anguished. The finale is by turns amiable and declamatory.
Pianist Kevin Kenner is a superb partner is this emotionally powerful performance. The smaller works are played with elegance and charm. The recording is close and warm.
TIM HOMFRAY