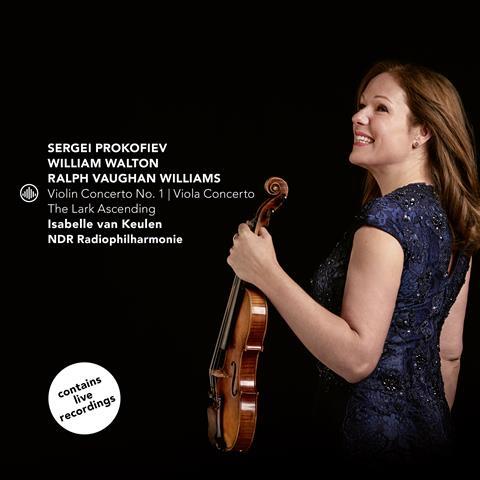 The Strad Issue: February 2019
Description: Van Keulen plays both violin and viola – and takes flight
Musicians: Isabelle van Keulen (violin and viola) NDR Radiophilharmonie/Andrew Manze, Keri-Lynn Wilson, Andrew Litton
Works: PROKOFIEV Violin Concerto no.1; WALTON Viola Concerto; VAUGHAN WILLIAMS The Lark Ascending
Catalogue Number: CHALLENGE CLASSICS CC72793
In her booklet notes, Isabelle van Keulen identifies these three pieces as 'works without theatrics, without pretensions', a description that could apply equally to her interpretations.
While capturing the freely soaring avian spirit in The Lark Ascending, van Keulen carefully underlines the music's folk roots. This is no artful sketch following careful study, but rather a sincere ode to the lark and an instinctive, colla parte commentary on its flight.
There's some very fine playing in Walton's Viola Concerto also, but it is less impressive overall. The mood of the first movement is difficult to place and while all else is present and correct, there are relatively few moments – one is her poetic handling of the returning themes in the finale – that push you to the edge of your seat.
The same cannot be said for Prokofiev's Violin Concerto no.1, to whose first movement van Keulen brings a muted flautando quality and a wealth of half-lights of colour and dynamic that conjure an inspired, magical fantasy. For the rest of the concerto there's an apparently effortless musicianship, suppleness and lightness of touch.
There are myriad subtle insights throughout where she, Manze and the orchestra are in delicious collusion. It's in this piece, too, that the orchestra shines best in a warm and detailed recording.
EDWARD BHESANIA