Hungarian composer's mesmerising musical tribute to Spanish architecture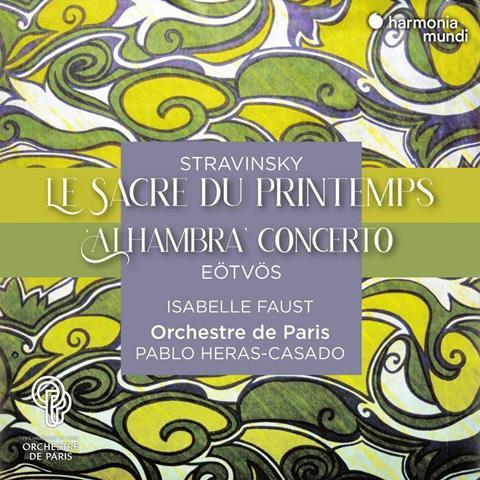 The Strad Issue: June 2021
Description: Hungarian composer's mesmerising musical tribute to Spanish architecture
Musicians: Isabelle Faust (violin) Orchestre de Paris/Pablo Heras-Casado
Works: Eötvös: Alhambra. Stravinsky: Le sacre du printemps
Catalogue number: HARMONIA MUNDI HMM902655
The structure of Peter Eötvös's Third Violin Concerto Alhambra is fluid, although one senses a vestigial fidelity to old forms at certain transition points, one- and two-thirds of the way through the 24-minute single movement. Within the score are musical cryptograms honouring the violinist and conductor dedicatees who gave the concerto's premiere in 2019 and made this studio recording shortly afterwards. And there is a declared tonal centre of G – for Granada – but these are red herrings for musicologists to dissect.
The sound engineering gives a hand to the mandolin next to the soloist, shadowing her at points and disappearing at others, though she is rarely left alone during what the composer says is not a rondo but 'more like a stroll through the mysterious building of the Alhambra'. Something elegant and self-contained about Isabelle Faust's Mozart and Berg is enshrined in the solo writing. On a fourth or fifth listening, the shape and focus of Alhambra began to take my imagination with it, beyond the ghosts of fandango and flamenco, into the covert naturalism that is Eötvös's Hungarian inheritance from Bartók, a world of translated folk harmonies and sudden flashes of temper.
Recording in the Philharmonie de Paris, the Teldex engineers from Berlin have created a true studio Rite of Spring in complement: quite distinct in emphasis and graded in impact compared to live or as-live experiences, though Pablo Heras-Casado generates quite some momentum and heat through the first part. The album is worth hearing for Eötvös and Faust alone.
PETER QUANTRILL