Fresh, joyous performances of music both familiar and unfamiliar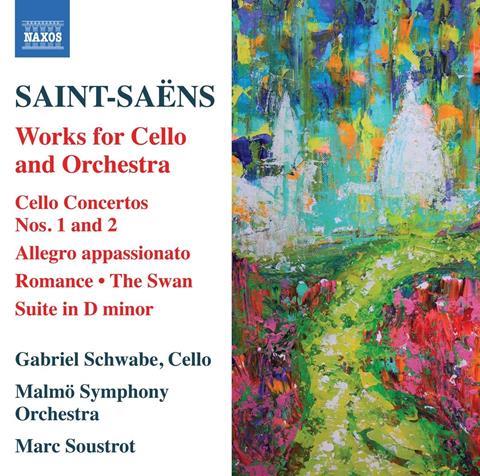 THE STRAD RECOMMENDS
The Strad Issue: February 2018
Description: Fresh, joyous performances of music both familiar and unfamiliar
Musicians: Gabriel Schwabe (cello) Malmö Symphony Orchestra/Marc Soustrot
Works: SAINT-SAËNS Cello Concertos nos.1 and 2; Allegro appassionato; Romance in F major; Suite in D minor op.16; The Swan
Catalogue Number: NAXOS 8.573737
Saint-Saëns's two cello concertos are chalk and cheese. The first sparkles like champagne with brilliance, wit and charm, whereas the second tumbles in as a poor also-ran. Sadly, I have yet to hear a performance of the latter work to convince me otherwise. Nonetheless, Gabriel Schwabe, aided by a remarkably clear recording, plays the taxing cello part eloquently, and the Malmö Symphony Orchestra under Marc Soustrot is completely inside the French idiom, bringing shimmering clarity to the orchestral textures.
Throughout the disc, ensemble between soloist and orchestra is immaculate, with a wonderfully fluid approach to rubato. There is style aplenty also in the First Concerto, and Schwabe's interpretation is refreshingly free of mannerism, with the figuration on the cello beautifully shaped and precise. Despite the Allegro appassionato being such a stalwart of the repertoire, the performance here is fresh-faced, full of vitality and joie de vivre. The contrasting characters in the thematic material are brilliantly etched, with the concluding accelerando delivered with electrifying energy.
But the real jewel in the crown is the entirely persuasive interpretation of the 1919 orchestrated version of the Suite in D minor for cello and piano, which features two movements that are not present in the earlier version. Teeming with vintage melodies, each movement has sharply defined and attractive material that makes one wonder why the work remains so neglected.
JOANNE TALBOT