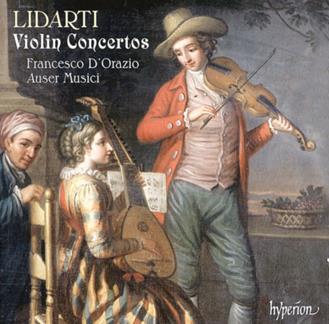 The Strad Issue: January 2008
Musicians: Francesco D'Orazio (violin/director) Auser Musici
Composer: Lidarti
Born in Vienna into an Italian family, Christian Joseph Lidarti (1730–95) sought instruction in Italy from Niccolò Jommelli and settled eventually in Pisa. His violin concertos are not especially profound, but illustrate the genre in transition between Baroque and Classical styles.
These concerto performances are not without rough edges from soloist and orchestra, but they show spirit aplenty and, if the raucous natural horns in the C major's finale are any guide, a crucial sense of enjoyment. These artists play with affecting dynamics, transparent textures and a strong empathy with Liparti's idiom, but much of Francesco D'Orazio's scalic passagework sounds a scramble and his intonation is occasionally wayward, notably in the outer movements of the D minor and C major concertos.
Nevertheless, his arpeggio and high-tessitura figuration in these movements is comfortably accomplished, along with the cadenzas, including the accompanied cadenza of gypsy-like sensuality in the first movement of the C major. He seems more at ease in the equivalent movements of the A major work, dispatching the solo passages of its Haydnesque Allegro moderato with aplomb and injecting its Vivaldian finale with striking momentum. He draws the most pleasing sounds from his 1711 Giuseppe Guarneri violin in the brief central Adagios, especially that of the D minor concerto.
The three-movement Quartetto focuses largely on dialogue between violinists Raul Orellana and Daniela Godion and is played with genial lightness. One longs, however, for more drama and extraversion, particularly in the opening Larghetto. The recording seems uncomfortably close at times in the concertos.
ROBIN STOWELL