A French violinist struts his stuff in two highly contrasted albums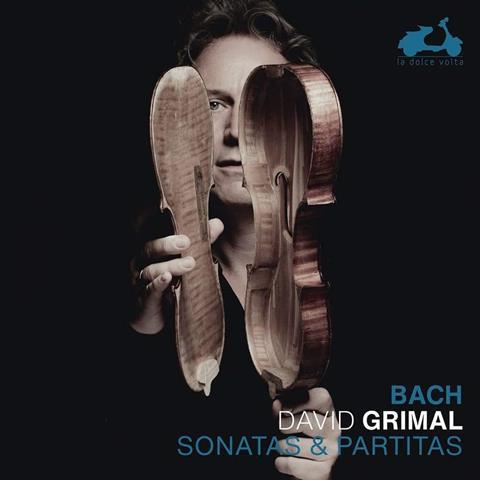 The Strad Issue: August 2023
Description: A French violinist struts his stuff in two highly contrasted albums
Musicians: David Grimal (violin)
Works: Bach: Sonatas and Partitas BWV1001–1006
Catalogue number: LA DOLCE VITA LDV88.9 (2 CDS)
Musicians: Poulenc: Violin Sonata. Stravinsky: Divertimento. Prokofiev: Violin Sonata no.1 in F minor op.80
Works: David Grimal (violin) Itamar Golan (piano)
Catalogue number: LA DOLCE VITA LDV117
David Grimal's Bach performances have the authoritative simplicity of an artist who feels no need to impose himself on the music. He is often light and nimble on his musical feet, playing with a period sensibility, with gut strings and little vibrato.
The opening Grave of the First Sonata is rhythmically flexible, less slow and weighty than many, and the Fuga is brisk and airy, pushing purposefully onwards, the broken chords deftly handled. Grimal plays the opening Allemande of the First Partita with such expressive rhythmic freedom that the pulse varies considerably. The dances that follow are not so much pieces to dance to as pieces that dance in themselves, and the Doubles are crisp and vigorous.
The Fuga of the A minor Sonata is played with finesse and a minimum of fuss – pretty much just as Bach ordered – and there is beautiful legato playing in the Andante over a steady stream of double-stopped quavers. There is no repeat in the second half of the final Allegro, which is odd. The great Chaconne in the Second Partita is beautifully constructed, with dabs of rubato to give it liveliness and shape; the central major section is a wonderfully crafted paragraph of increasing energy. The long Fuga of the Third Sonata emerges as a single musical thought, full of variety and purpose. After the clear, dynamic Prelude to the Third Partita the dances are shapely and graceful. The recorded sound is close and pristine.
In Grimal's other new disc, he shows a strong affinity with the many and varied characters of Poulenc's Violin Sonata, by turns edgy and spiky, filled with nervy energy, sultry and expansive. The Intermezzo is at times given in a breathy whisper, but the tone is always clear and warm. The finale combines mercurial charm with vigour and constant flashes of wit; it is suave and coquettish, before the suddenly slow, serious final pages. In Stravinsky's Divertimento, Grimal is dry, witty and urbane. The opening Sinfonia is ghostly and then muscular; in the Dances Suisses, desiccated staccatos give way to foot-stamping joy when he lets rip in fortissimo octaves. In the Scherzo and the later Pas de deux variation his dextrous quicksilver playing is a delight.
His performance of Prokofiev's First Sonata has a cumulative emotional power despite its pared-back expression. After the severe beauty of the first movement there is plenty of bite in the violent repeated crotchets and scrambling triplets of the Allegro brusco, in the midst of which the Poco più tranquillo is meltingly tender. The Andante is like a refuge from its bleak surroundings, its melodies gentle and warm, and the finale is a clipped, macabre dance. The recording is close and clean.
TIM HOMFRAY