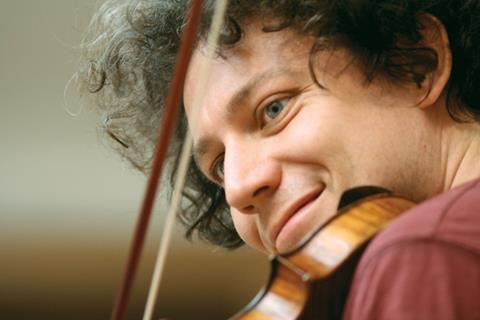 The Strad Issue: January 2009
Musicians: David Grimal (violin) Georges Pludermacher (piano)
Composer: Janacek, Szymanowski, Enescu, Bartók
Juxtaposing major works written within the space of 13 years by four European composers would appear a fascinating concept, though in the event this disc shows just how much performers can colour our view of music. That fact emerges when comparing the two recordings released this month of Enescu's seldom-played Third Violin Sonata. Here from David Grimal we have an excellently detailed, lithe and immaculate account, the light dancing moments played with a silvery brilliance. But compare that with the passion and earthy gypsy quality of Valery Sokolov (Virgin Classics, see Chamber), and while the music may be the same, you are transported to a totally different part of the world.
Grimal's approach to the Janá?ek Sonata is likewise technically perfect, though it seems so intent on pointing to the abrupt and dramatic mood changes, particularly in the last movement, that the overall shape of the work can be frustrated.
It is in the ecstatic passages of Szymanowski's Mythes that Grimal's French elegance is heard in its fullest beauty. His impeccable intonation never falters as the violin flies into the stratospheres while relating the composer's story of rapturous love. I also much enjoyed the sprightly reading of Bartók's First Violin Rhapsody, a work whose folk idiom never demands the earthiness of Enescu.
The recorded balance is particularly generous to Georges Pludermacher's piano, allowing us to enjoy his highly detailed contribution, and adds immeasurably to the disc's many attractive qualities.
DAVID DENTON