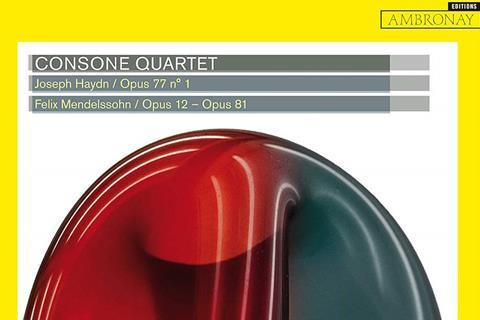 THE STRAD RECOMMENDS
The Strad Issue: March 2019
Description: Prize-winning young quartet scores a bullseye with this debut
Musicians: Consone Quartet
Works: MENDELSSOHN String Quartet no.1 in E flat major op.12; Four Pieces op.81 HAYDN String Quartet in G major op.77 no.1
Catalogue Number: AMBRONAY AMY310
Prize-winning young quartet scores a bullseye with this debut
Every now and then a debut disc comes along that instantly leaps out of the stereo at you as something special. This is one. Formed in 2012 at London's Royal College of Music, the Consone Quartet (comprising violinists Agata Daraskaite and Magdalena Loth-Hill, violist Elitsa Bogdanova and cellist George Ross) focuses on exploring Classical and early Romantic repertoire on period instruments.
Its explorations have been rewarded thus far with two prizes at the 2015 York Early Music Competition, including a place on the Eeemerging Scheme at Ambronay, and winning the 2016 Royal Over-Seas League Ensemble Prize.
This programme is perfect debut recording material for these musicians, and indeed they get underneath its skin as much as anyone could wish. Take the slow introduction to the Mendelssohn op.12, written by the 18-year-old composer against the seismic recent event of Beethoven's death. It appears, clean and lucid of tone, poised and tender of approach, tension and resolution beautifully managed, and with a narrative to the phrasing which has you hanging on for every next musical word.
Or the subtle cheekiness of the marcato markings at the outset of the Haydn Menuetto which are almost more a change of tone than attack, especially enjoyably so for Daraskaite's gossamer high As. I could go on – but essentially this is a musical, emotional, stylistic and technical bullseye.
CHARLOTTE GARDNER