Peter Quantrill reviews two live-streamed concerts, with links in the review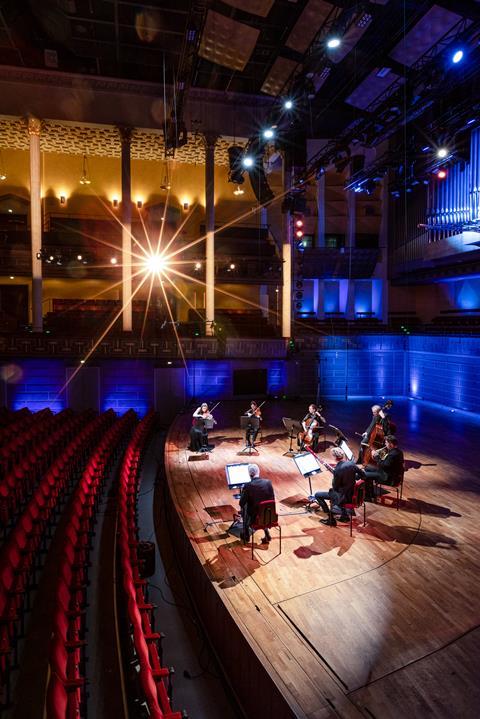 Royal Stockholm Philharmonic Orchestra/Janine Jansen (violin)
Konserthuset 13 May 2020 (Click here)
Members of The NDR Elbphilharmonie, Anna Vinnitskaya (piano)
Rolf Liebermann Studio 13 May 2020
Sweden's liberal lockdown policies allowed live music making to put out tentative shoots at Stockholm's Konserthuset while halls elsewhere in Europe stayed dark and barren.
It would be unfair to expect impeccable performances under such conditions. Like so many quarantine performances, this stylish but solemn account of Bach's E major Concerto is best enjoyed for the fact of its taking place at all. As recorded, the single bass, trio of cellists and harpsichord continuo dominate the texture and Jansen's chosen approach of primus inter pares is better suited to Beethoven's Septet, where she was joined by the orchestra's wind and string principals.
The Septet (right) was an out-and-out success for Beethoven during his lifetime, and Jansen and her colleagues played it as the classiest possible Hausmusik. Violist Vicki Powell and cellist Marie Macleod made a fetching duet in the theme and variations, leaving the lustrous, soloistic tone to Jansen and clarinettist Hermann Stefánsson. Relaxed humour and high spirits permeated both music and performance, even down to Jansen's deliciously pointed cadenza in the finale.
In Hamburg, moderator Friederike Westerhaus explained (in German) all the shielding precautions that allow the musicians to take to the stage at the Rolf Liebermann Studio, but it's easy to forget protocols once Mozart's 'Dissonance' Quartet K465 begins its tortuous and unearthly journey towards D minor. Concertmaster Alexandra Psareva led off with Russian-school vibrato – cellist Bettina Bertsch responded in more contained, authentically Viennese style – but yielded gracefully to her colleagues when required. With a slow movement full of suppressed pathos, an edgily contoured Minuet and incisive finale, it's a performance with no taint of the empty studio.
Before Bach's F minor Keyboard Concerto – done as a sextet, jazz-style, one voice to a part – Bertsch touchingly explained what it means to return to the stage in such straitened times. The prevailing emotions – mourning and hope – were then beautifully distilled within a flowing account of Metamorphosen that got to the heart of Strauss's wartime elegy. To eavesdrop on musicians who work with each other every day, liberated from the stick and the podium, is a reliable pleasure at any time; here, even in Rudolf Leopold's arrangement for string septet, it made a salutary reminder of the fine art, as well as the joy, of listening.
PETER QUANTRILL