Tim Homfray watches a live stream from London's Wigmore Hall on 8 January 2021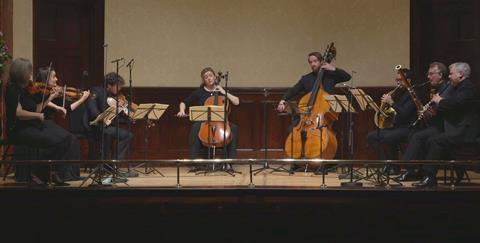 Making its debut in this concert, the Wigmore Soloists is one of three new ensembles put together by hall director John Gilhooly. There was only one work, Schubert's Octet, which among its many qualities is a happy entertainment, much needed in these woebegone times, and this was a delightful performance. The strings in the opening Adagio were lush, and the brisk Allegro was full of joie de vivre, with leader Isabelle van Keulen's semiquavers sparkling away and bassist Tim Gibbs enjoying his moment to the fore in the development. The Adagio was correspondingly spacious, with clarinettist Michael Collins graceful in the opening melody, and cellist Kristina Blaumane elegant when her turn came.
Blaumane then produced a nicely shaped walking bass in the Trio of the third movement Allegro vivace, a mix of robust energy and refinement. Van Keulen gave a fluent and shapely account of the variation theme in the Andante, and later dispatched her demisemiquaver commentaries with finesse, lightly dancing into the stratosphere. There was some fine horn playing from Alberto Menéndez Escribano in the third variation, and Blaumane brought a hint of swing to variation VI. The last-movement Allegro was a joyful dance.
TIM HOMFRAY