Leah Hollingsworth reports on the concert at New York's Zankel Hall on 13 June 2019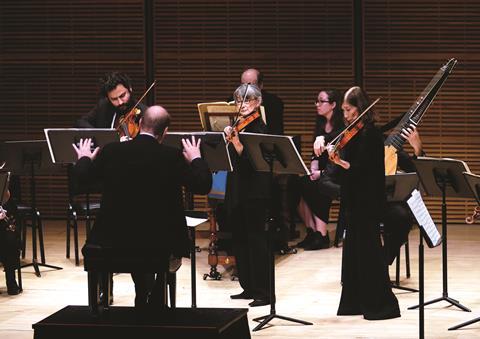 The Orchestra of St Luke's all-Bach programme started with the composer's delightfully familiar but rarely heard Sinfonia in G major BWV174. Taken from the first movement of Bach's third Brandenburg Concerto, the piece set the stage for an entire programme of 'transformations' – pieces that Bach himself rethought in some way during his lifetime. It was meaningful to hear principal conductor Bernard Labadie share this programmatic philosophy with the audience during the performance, and his enthusiasm for the idea was contagious. The Concerto for Three Violins in D major BWV1064 boasted beautifully shaped phrases from the three soloists in the Allegro and poignant performances in the Adagio. The very tricky final Allegro was performed with spirit and courage and I particularly appreciated concertmaster Alexander Fortes' clarity of line and phrase direction.
Labadie brought out a wonderful structure and architecture of phrases in the larger ensemble for Bach's Orchestral Suite no.2 in B minor BWV1067. I especially enjoyed the surprising, energetic playing in the bourées, and flautist Elizabeth Mann did an exceptional job of bringing colour and beauty to the solo flute part. Bach's Orchestral Suite no.1 BWV1066 followed the interval, and the full but light sound, great energy, dynamic playing, and beautifully tiered structure made it a joy. The programme came full circle, ending with the Sinfonia in F major BWV1046a, also taken from one of the Brandenburg Concertos. This thoughtfully performed and programmed concert was filled with the joy of Bach and the joy of music, and it was a pleasure to hear this orchestra – a long-time mainstay of New York City but with many recent changes – still thriving.
LEAH HOLLINGSWORTH