Edward Bhesania hears the solo recital at London's Barbican on 23 September 2021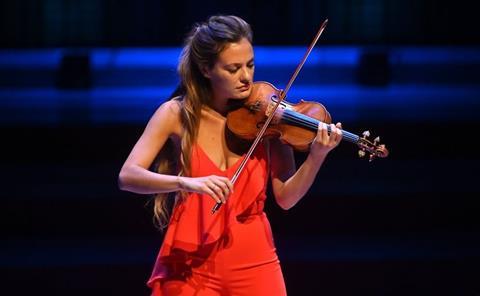 While the likes of Lang, Wang and Trifonov routinely work the large venues in solo recital, there are few violinists who can match their pulling power. Nicola Benedetti is one of the exceptions and in her Barbican recital she embraced the audience with her friendly, informal introductions – even self-effacingly excusing herself before the start of the second half after noticing the foot-pedal controller for her tablet reader needed a battery change.
But her expression was less commanding in Bach's D minor Partita, which neither quite radiated outwards nor drew us in. Though physically a more intimate venue than most large halls, acoustically the Barbican swallowed up what, in other spaces, might have been a more soulful and magical Sarabande. On the flip side, it allowed the star violinist to take the Gigue at a giddying lick and, in the Chaconne, enabled us to behold her laser-sharp string-crossing.
The second half brought, as well as a costume change, a new sound-world in Ysaÿe's Sonata no.5, in which Benedetti relished its technical challenges and its spirited 'Danse rustique'. The dance theme, begun in the Partita, continued in Wynton Marsalis's five-movement Fiddle Dance Suite, offering a kaleidoscopic profusion of styles, if not always of ideas, that underlined another Benedetti singularity: a rare stylistic range.
EDWARD BHESANIA
Photo: Mark Allan/Barbican