Leah Hollingsworth attends the performance at New York's Geffen Hall, Lincoln Center, on 21 November 2019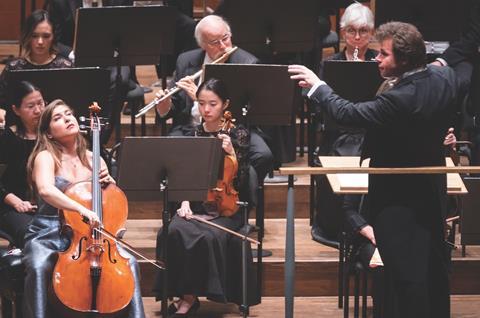 The New York Philharmonic strings sounded fantastic in the opening unison of Borodin's rarely heard Symphony no.2, playing with an intense but articulate sound and immaculate ensemble. With the exception of some murky pizzicato in the second movement, the remainder of the work followed suit, with nicely shaped lines, terrific energy and overall excellent playing.
Alisa Weilerstein took the stage for Saint-Saëns's First Cello Concerto, and her poise matched her delivery. Each harmonic shift was reflected thoughtfully in her colour choices and nuanced playing, and she was unafraid to play quite softly – but she projected extremely well, even in the softest dynamics. Yet despite her impressive left-hand articulation, some of her runs on the lower two strings became lost in the orchestral textures during the first movement. Overall, her upper strings not only projected better, but they seemed much brighter in colour. Meanwhile, her transition into the second movement was quite stunning, and I appreciated the solemnity of her approach to a concerto often written off as a somewhat flashy student work: she took each phrase seriously and imbued the piece with a depth of emotion that elevated it beyond the score. However, when it was time for drama she certainly pulled out all the stops (without overdoing it), and she flawlessly dispatched all the technical difficulties of the third movement.
Dvořák's Symphony no.6 followed the interval, and the New York Philharmonic played this pastoral work with elegance. Clear articulation in the strings in the first movement pleasantly provided a buoyant contrast to the lilting melody of the second theme. The second movement boasted some incredible horn playing, and although the final movement perhaps felt a bit repetitive, a sparkling, rollicking coda finished off the evening.