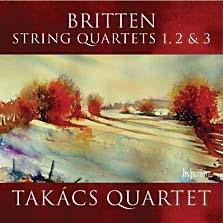 THE STRAD RECOMMENDS
The Strad Issue: January 2014
Description: A new touchstone in an economical one-disc collection of Britten's three numbered quartets
Musicians: Takács Quartet
Composer: Britten
Having passed through a period when I favoured the exceptionally dramatic view of Britten's three quartets from the Belcea Quartet (EMI), I found more to enjoy with the arrival of a literal approach to the printed scores from the Maggini Quartet (Naxos). Now we have the best of both worlds in this new recording from the Takács Quartet.
Although at times the players employ daringly fast tempos, as in the opening movement of the First Quartet, their clarity and rhythmic exactitude remove any sense of undue haste. The third movement is also taken much quicker than in the Maggini's more intense reading, and by lightening the texture they lessen the contrast with a finale that can easily sound frothy in other hands. The careful placement of the quiet cello pizzicatos that close the opening movement of the Second Quartet is indicative of the depth of thought that the Takács players bring to the whole cycle, and their final Chacony has plenty of urgency.
The Third Quartet, as we often find, is the most difficult to hold together, though here the problem is circumvented by adopting an energetic approach until the final Passacaglia, which is approached with an unadorned sadness. I would not want to be without the Maggini, but the Takács has set a new benchmark for these works, in excellent recorded sound.
David Denton