Alex Laing reads US violinist Jason Anick's method for learning how to improvise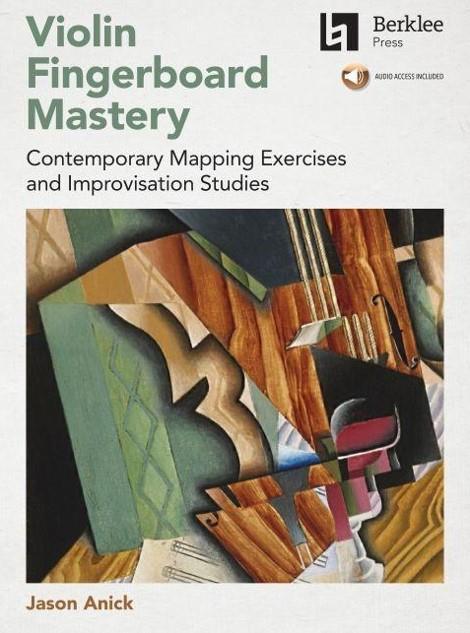 Violin Fingerboard Mastery: Contemporary Mapping Exercises and Improvisation Studies
Jason Anick
64PP ISBN 9780876392157
Berklee Press $22.99
Jason Anick is a professor at Berklee College of Music known for his versatility as both a performer and educator. In this book, Anick seeks to guide us towards a deeper knowledge of harmony on the violin, which in turn leads to more freedom and ability to improvise in any genre.
Improvisation can be a scary idea for some violinists. Many classically trained players are used to learning scales, studies and concertos, but not to playing with complete freedom from such formal shackles, whether of technique or interpretation. In this volume, Anick presents improvisation in a format that we are almost used to (like a study book), showing us that it can in fact be learnt. He also demonstrates that the ideas behind improvisation are useful for every genre of music making.
Anick starts with the basics of harmony. He shows how arpeggios and inversions lie on our fingerboards. He urges us not just to play but to understand, picture and feel, thus forming a reliable mind map of the fingerboard. He discusses how the arpeggios are chords and how they can relate to each other – great advice for teachers here, looking to inspire their students to practise scales and arpeggios. As the volume progresses, so more is added, including the harmonic relationships of circles of 5ths, arpeggios and chords with added 9ths, and then on to seemingly more random progressions and chord relationships.
At no point does one get swamped with new ideas, as everything is presented so clearly and encouragingly. Every challenge and exercise is shown using chord symbols, but is also written out complete, to show the reader exactly what is meant. Improvisation can never be completely pinned down, but Anick always provides some guidance, ideas or examples on how to get started with each challenge. The volume is also accompanied by many recorded tracks, some with Anick performing, others just the backing tracks for us to experiment with. It concludes with a step-by-step guide on practice suggestions followed by six jazz standards (Anick actually calls them 'Jazz Etudes') where we can start to put together everything we have learnt.
It is very heartening that a gateway for violinists into harmony and improvisation has been provided in such an inspiring, attractive and accessible form. This book is excellent.
ALEX LAING