Composer Liz Dilnot Johnson describes using lockdown to explore improvising techniques with violinist Lucy Russell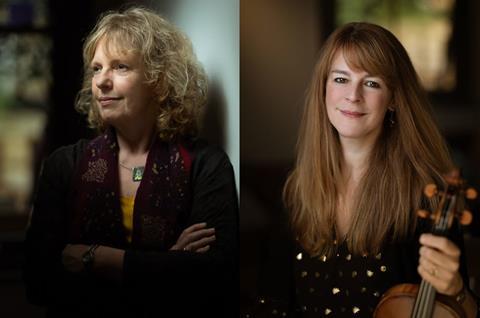 I used to have a dark secret. As a composer I often incorporate improvisatory elements in my scores, but my early training on cello, piano and voice was based entirely around sight-reading and interpreting notated music, and for years I was terrified of the word 'improvise'. Whenever someone said 'just play something' I would freeze, not knowing what to do. I felt ashamed by my lack of ability, and I know that many other musicians have a similar fear…
I'll never forget the moment I was brave enough to overcome this. It was 1998; I was 34, yet it was the first time I'd played my cello without a music stand. I was terrified. Holding my bow, hands sweaty, I committed to a note and started to play. It was my first 'free improv' class in my Composition Masters: my task was to help create a 'group crescendo' on any note; I chose a high F# – and I felt my ears open – the level of my listening intensified as I matched my sound to the rest of the group. A new door had opened.
On reflection, I realised that the fear I felt related to two specific things. I was afraid of being asked to harmonise on the spot. I was afraid of jazz improvisation. These are two areas of music-making that can be mastered with the right approach, but to be honest, I didn't seem to have much aptitude for either.
In my experience of over 20 years leading workshops, creating new pieces and collaborating with amateur/professional musicians, I've never needed to play jazz or harmonise something on the spot, so it hasn't been a problem. But through overcoming my fear of improv, what I have discovered is that there is a whole world of expressive improvisatory 'musicking' at my fingertips. And this makes me feel better about myself as a musician.
Whenever I encounter strong resistance to improvisatory work in another player, I fully recognise the perceived lack of ability to play without notated music and the horrible feeling of ineptitude that goes with it. It has been wonderful to break through that initial barrier with players over and over again as they discover their own innate musicality.
Read: How to improvise on the violin
Read: 10 tips for improvising on a stringed instrument
But courage comes before confidence – as I discovered with my friend and colleague Lucy Russell. Internationally recognised violinist and leader of the Fitzwilliam String Quartet, Lucy is no stranger to improvisatory music. But despite her ability to play divisions in 17th century repertoire, her flair for baroque ornamentation and her experience in collaborating with composers, Lucy felt unable to play completely 'off the sheet'. Talking about this, she expressed a tangible fear: she believed she could not do it.
Lockdown provided a unique opportunity to grasp that nettle. When she came to stay last summer I insisted we just try it. We started in Dorian Mode, and within moments we were off. Since then, we have explored many different ideas and her confidence levels are through the roof! As Lucy puts it, 'These improvisation ideas are musical life-savers, providing a fantastic opportunity to try things out in a non-pressured way. Doing this now with my students has enabled them to become more confident, more in touch with their playing and they seem to have blossomed as people too – very heartening and exciting to witness!'
Now Lucy and I are sharing this approach online. Both amateurs and professionals are reaping the rewards of taking their first brave first steps in improv. And like Lucy, they are discovering that, 'as a player, it's all inside of us, waiting to be allowed out. It's as if we have our own bank vault full of ideas, and there are rich pickings to be found.'
Why not take the plunge?!
InsideOut Musician
Together with Sophie Renshaw, Mairi Campbell and Ruth Phillips, Liz Dilnot Johnson and Lucy Russell have set up InsideOut Musician, with many courses encouraging new approaches – with or without a score. You can try some of Liz's free 1-Minute Creative Challenges or sign up for Liz's Ways In to Improvising or Lucy's liberating one to ones, Sophie Renshaw's Explorations for String Players Ruth Phillips' The Zen Practice Room or Mairi Campbell's Voice and InterPlay class, all available online at InsideOut Musician. Our range of supportive classes, groups and live events allow musicians at every level to find ways to expand and grow in different ways, to discover new confidence and feel more connected as a musician, both inside and out.
Watch: Blake Reimagined by Liz Dilnot Johnson for improvising choir, semichorus and improvising vocalist performed by Ex Cathedra dir. Jeffrey Skidmore, soloist Debipriya Sircar
Watch: award winning film Can You Hear Me music by Liz Dilnot Johnson for baroque violin, mezzo soprano, baroque orchestra, and choir performed by the Royal Birmingham Conservatoire chamber choir and baroque orchestra dir. Jeffrey Skidmore, soloists Lucy Russell and Samantha Lewis. Film edited by Neta Shlain.
Listen: Lucy Russell and John Butt JS Bach Sonatas for violin and harpsichord