Florian Leonhard reviews an extensive study of the famous cello, including dendrochronology, CT scans and posters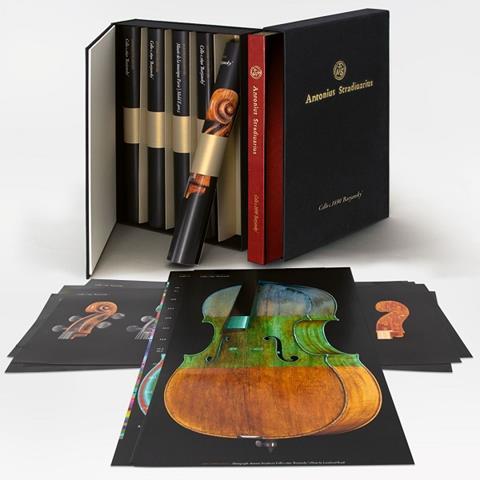 Monograph of the Antonio Stradivari Cello c.1690 'Barjansky'
Ed. Jost Thöne
392PP ISBN 9783000662034
Jost Thöne Verlag
€890 (library) €1,690 (deluxe)
One is seldom treated to a book that caters to the needs of both the amateur enthusiast and the most experienced collector. It could certainly be argued that Jost Thöne's latest publication does just that. He has laid out in detail the history of this instrument (named after Russian cellist Serge Barjansky) and its restorations up to recent owners such as Julian Lloyd Webber. By no means just a pretty picture book, from start to finish it contains highly valuable original research contributions from an array of makers, researchers, restorers and experts in the fields surrounding lutherie. Of particular value are the detailed illustrations and side-by-side explanations on such matters as the spectral analysis of the varnish, age of the wood, and CT-scanned views of the instrument: all relatively recent innovations. In particular, the inclusion of these scans is what sets this book apart from previous literature, treating readers to a non-invasive look inside the cello.
While certain theories and terminologies may be a challenge for the novice to grasp, the book is still something of a trendsetter as a monograph devoted to bringing all the available scientific methods of analysis to a wider audience. Much literature of this type tends to be either too academic or simplistic, often glossing over important historical aspects. Here we have a research piece that is both concise and meticulous, and there is also a website of accompanying content with developing features.
The book's physical weight certainly does not translate into a heavy read. On the contrary, its size enhances impact of the spectacular photos, including those taken with a bellows camera. Also included are life-size rolled posters of the cello, featuring photos, patterns and CT scans. This outstanding imagery very much enhances the reader's ability to visualise the techniques and tools that restorers and experts commonly use to analyse an instrument. My only personal wish would be to see more photos to explain the milling method in the contribution about patch production; this would also very much simplify the explanation of the process for amateur enthusiasts.
In this pioneering book Thöne has spoilt us with contributions from the greatest specialists and technical minds in their respective fields. The result is a unique collaborative publication, which beautifully illustrates the historical journey of this cello from its inception up to the present day. If you buy it, certainly read until the end: there's a surprising amount of detail, and you will gain a rare and special glimpse into the world of restoration.
FLORIAN LEONHARD