Tully Potter reviews the second edition of this landmark biography of the legendary US violinist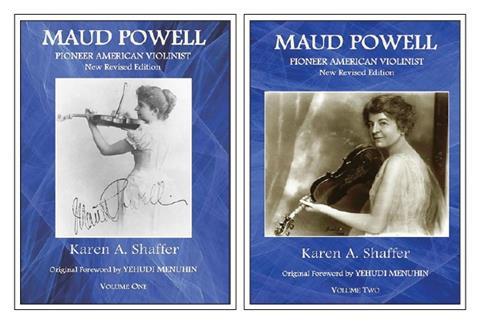 Maud Powell: Pioneer American Violinist
Karen A. Shaffer
349PP & 401PP ISBN 9798803490531
Maud Powell Society $25/volume
If, like Karen Shaffer, you are going to devote a good chunk of your life to a violinist, Maud Powell (1867–1920) is a good choice. Though a pupil of Dancla, Schradieck and Joachim, she practically invented the 'American violinist' and surmounted the hurdles placed in the way of women to bring good music to remote corners of North America and even South Africa. She might seem as tough as old boots but her heart gave out at 52 – had she lived to, say, 60 we might have had concerto recordings.
As it is, we have enough 78rpm tracks to fill four CDs from this doughty lady who was the Victor company's first 'Red Seal' violinist. They show that she could play virtually anything, but only Bériot's Seventh Concerto is at all extended. No Sibelius or Tchaikovsky Concerto: she unveiled both to America and was first to play the Dvořák in New York. She premiered works by Aulin, Bruch and Saint-Saëns in the States and might have introduced the Elgar but found it empty and pompous – and Novello asked for $1,000.
Shaffer first wrote about Powell in the 1980s, collaborating with Neva Garner Greenwood (who died before publication); but she was denied access to important documentation that has since become available, and the Internet has brought other dimensions. This new edition is vastly better and more informative than the original, with fascinating details of Powell's indefatigable touring. I think she misses one Powell US premiere: Lalo's G major.
The two volumes are not consecutively paginated and each has the same index. Volume Two has a discography. More than 100 half-tones are reasonably reproduced – my favourite is the full-length portrait of Powell with violin on page 61 of Volume Two. The price is amazingly low and the books belong in the library of every violin lover.
TULLY POTTER