Joseph Curtin examines the evidence – and the violin itself – to discover whether the American luthier George Gemünder was its actual maker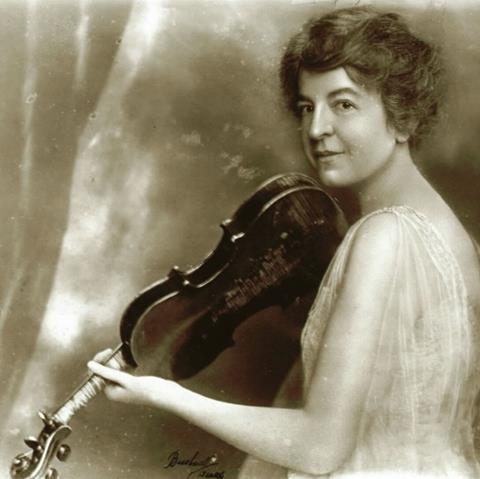 The following is an extract from The Strad's feature on Maud Powell's Violins, published in the June 2016 issue – download on desktop computer or through The Strad App.
One day in 1907 trailblazing American violinist Maud Powell and her husband and manager Godfrey Turner visited a New York dealer called Oswald Schilbach, who said, 'I have the violin for you.'
He told them it was a Guadagnini, made in 1775. The pristine condition and brightly coloured varnish came as 'rather a shock to her', Turner later wrote, and Powell had understandable concerns about its authenticity. According to Schilbach, it had lain in a trunk 'somewhere in the West' for 75 years and he had recently replaced its original Baroque neck with a longer one. A June 1908 article from the Los Angeles Herald provides the backstory: Schilbach was approached by a 'German pedlar' named Simsen who showed him a dirt-encrusted violin, which Schilbach recognised as a G.B. Guadagnini. Instead of simply buying it, he found a third party to pay Simsen $300. Schilbach then bought it from the third party for $270. The paper notes that it was 'rather a complicated method of carrying out a simple transaction'. At any rate, Schilbach offered Powell the violin for $4,000.
'You simply can't appreciate how beautiful it is,' Powell wrote of her new violin. 'Look at its big broad chest under the bridge. No hollow, caved-in consumptive lines there that tell of the "one-lunger†.' Of the Guadagnini she said, 'He is a strong lusty youth, and I can thrash him.' With its 'glassy clearness, its brilliant and limpid tone quality, [it was] better adapted to American concert halls'. She played the Guadagnini for the rest of her career.
It was not until the 1970s that an expert appraisal of the instrument was commissioned. Kenneth Warren examined Powell's violin and in a letter to the curator wrote, '[It] bears no actual relation to a genuine G.B. Guadagnini.' It was, he believed, made by Gemünder between about 1860 and 1870. If so, Powell had come full circle, for the Gemünder she played as a student was made in 1869.
The complete Maud Powell article is published in The Strad's June 2016 issue – download on desktop computer or through The Strad App.