Karen Shaffer celebrates the groundbreaking US performer, whose consummate skill and communicative abilities impressed aficionados and the general public alike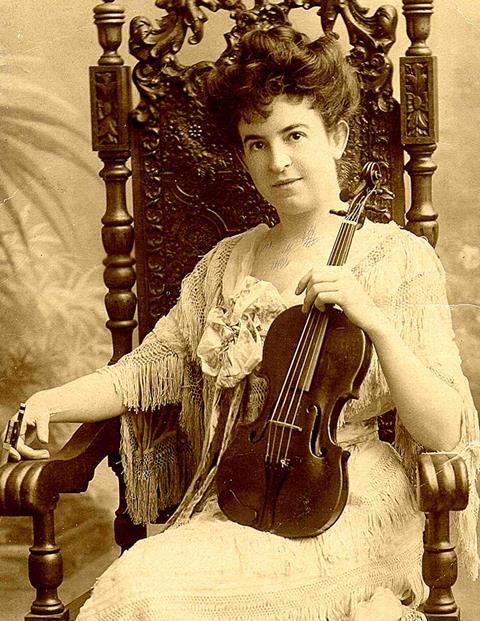 An energetic pioneer of classical music in North America, Maud Powell won over the US public with her stylish playing, tireless enthusiasm for touring, innovative recital programming and robust good taste. In a life of passionate commitment that ended all too quickly, she set a gold standard for other performers to follow.
Pedagogical background
From the age of seven, Powell studied violin and piano with William and Clara Fickensher in Aurora, Illinois. At nine, she began four years of violin study in Chicago with William Lewis, a student of Wieniawski, and piano and harmony with Agnes Ingersoll. From Lewis, Powell gained much of her broad tastes, her vigour and her stylistic freedom. She memorised everything she learnt. At the age of 13 she moved to the Leipzig Conservatoire, where she studied violin with Henry Schradieck and Friedrich Hermann, piano with Alois Reckendorf, and theory and composition with Alfred Richter. At 14, she came first in the Paris Conservatoire entrance examination, and spent six months studying there with Charles Dancla. Under his influence she switched from the German to the Franco–Belgian method, and it was Dancla who developed her exceptional performance skills. During a tour of Britain the following year, Joseph Joachim invited Powell to finish her studies with him at the Berlin Hochschule. 'He played the great compositions for me and I played them for him in turn,' she recalled, referring to the Mendelssohn E minor Concerto and the Beethoven Concerto and 'Kreutzer' Sonata. 'We worked together with singular sympathy,' she said. Joachim conducted her debut performances of the Beethoven Concerto and Bruch's G minor Concerto in Berlin in 1885.
Technique and interpretative style
Powell never let her scintillating technique overshadow the voice and message of the composer. Menuhin observed: 'Her recordings reveal a great violinist playing with great dash and style and cultivated musicianship in the manner of the period (without exaggerated vibrato), but so disciplined and clean with the authority of the great traditions of the German and French schools.' She exhibited complete command of the left hand combined with flexible bowing, flawlessly executing harmonics, double-stops, trills, staccato and legato, all with perfect intonation. Exceptionally versatile, she was admired for her virile style, big tone, commanding personality and authoritative readings of an impressively broad range of repertoire. She could play with abandon, but also with a pure, unforced, almost severe integrity. Known for her virtuosity and her incisive sense of pacing and rhythm, she could also employ lightness and delicacy of touch in certain passages.
Sound
Albert Spalding said that Powell produced the most beautiful tone among her contemporaries, especially on the G string. She had a brilliant, clear, rich sound and consciously adapted her vibrato to be appropriate for the style and period of the music. Entranced by the golden tone of her violin, contemporaries equated her with Kreisler, Ysaÿe and Wieniawski in sound, technique and artistry.
Strengths
Powell never played down to public tastes, and her extraordinary communicative ability engaged new audiences and educated them about classical music. Behind her technique and musicianship loomed an imposing intellect, broad humanity and deep spirituality.
Weaknesses
Powell's enthusiasm led her to overemphasise certain passages or notes at times. Also, when she returned to New York after a gruelling US tour in March 1913, her failure to rest revealed itself in some loss of poise and ragged bowing in a subsequent performance of the Tchaikovsky Concerto with the New York Philharmonic.
Instruments and bows
From 1903 to 1907, Powell owned the 1731 'Mayseder' Guarneri 'del Gesù'. Her favourite instrument, purchased in 1907, bears the label 'Johannes Baptista Guadagnini, in Turin, 1775', but it has since been claimed that it was actually made by George Gemunder between 1860 and 1870. Her 1856 Giuseppe Rocca violin became the companion instrument to this 'Guadagnini'. Her Louis Tourte bow was later used by Fritz Kreisler and Aaron Rosand, and is now in the hands of Rachel Barton Pine.
Repertoire and recordings
Powell enthralled audiences with her broad musical sympathies and engaging recital programming, performing concertos and sonatas, groups of shorter pieces and numerous encores.
Among the 15 concertos she introduced to the US were the Tchaikovsky, Dvor?ák and Sibelius, as well as works by Aulin, Arensky, Conus, Lalo, Rimsky-Korsakov, Saint-Saëns and Coleridge-Taylor (this last work was dedicated to her). She performed the Beethoven Concerto with Gustav Mahler conducting the New York Philharmonic. Famed for her performances of the Tchaikovsky and Sibelius concertos – when few violinists dared to play them – she was equally acclaimed for her interpretations of Bruch and Brahms, even composing a cadenza for the latter's Violin Concerto.
Powell's sonata repertoire included Bach's solo and accompanied sonatas, the Beethoven sonatas, and sonatas by D'Indy, Richard Strauss, Lekeu, Grieg, Fauré, Franck, Saint-Saëns, Sinding, Schütt and Brahms.
Powell championed US composers, including women such as Amy Beach and Marion Bauer and African–Americans such as J. Rosamond Johnson, encouraging them to find their own voice. Her 19 transcriptions are among the most engaging in the literature. Her transcription of Coleridge-Taylor's Deep River, in particular, is extremely moving.
As a chamber musician, Powell briefly led two ensembles: the Maud Powell Quartet (active 1894–5) and the Maud Powell Trio (active 1908–9). The former performed quartets by Mendelssohn, Mozart, Smetana, Grieg, Haydn, Dvorák and Beethoven, and the latter performed piano trios by Chaminade, Beethoven, Schütt and Arensky.
In 1904 Powell became the first instrumentalist to record for the Victor Talking Machine Company's celebrated Red Label series, setting an enduring standard for violin playing. Her performance of Bériot's Concerto no.7 in G major (on three 78rpm discs, with piano) was one of the first complete concerto recordings. Although limited to short pieces by the technology of the time, she recorded abbreviated versions of the finale from the Mendelssohn Concerto in 1904 and 1909. Her tone and technique recorded remarkably well.