Brahms playing big on personality but which fails to engage emotionally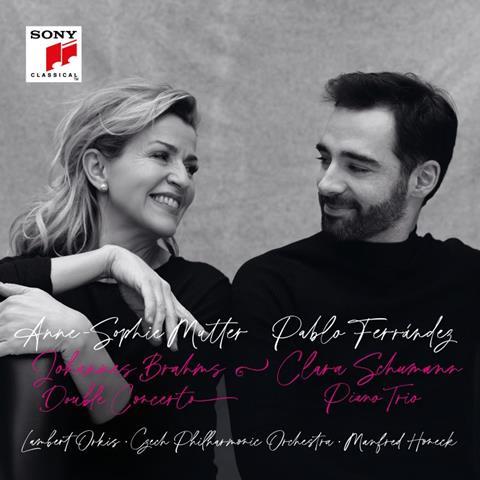 The Strad Issue: December 2022
Description: Brahms playing big on personality but which fails to engage emotionally
Musicians: Anne-Sophie Mutter (violin) Pablo Ferrández (cello) Lambert Orkis (piano) Czech Philharmonic Orchestra/Manfred Honeck
Works: Brahms: 'Double' Concerto in A minor. C. Schumann: Piano Trio in G minor
Catalogue number: SONY CLASSICAL 19658 74110-2
Anne-Sophie Mutter's 1983 recording of Brahms's 'Double' Concerto long held the status of a classic, despite Karajan's languid conducting and the mismatch between her rather wiry tone and cellist Antonio Meneses's grandiosity.
Almost four decades on, her sound is silkier and her partner a player from the new generation, the Spanish cellist Pablo Ferrández, born eight years after that DG recording was made. They're two big personalities, taking their time when the spotlight is upon them, milking every rallentando and pouncing on every sforzando. The effect, in this paradigmatic work of reconciliation, is of two great actors declaiming their new-found eternal fidelity from the stage before leaving the theatre in separate cabs. They sing together, sure enough, and Manfred Honeck's Czech PO provides epic accompaniment in a not unappealingly resonant acoustic. But there's intimacy to be found in the 'Double' Concerto, too, and among digital recordings you may hear it more readily from the Capuçon brothers in their standard-setting reading with the Gustav Mahler Jugendorchester under Myung-Whun Chung (Virgin/Erato) or in the humaneness and humility of Antje Weithaas and Maximilian Hornung with Andrew Manze's NDR Radiophilharmonie (CPO).
More engaging is the rather unexpected coupling, Clara Schumann's Piano Trio in G minor, easily the finest of her large-scale works and a far cry from the foursquare phrasing and unimaginative development of her youthful Piano Concerto. Mutter and Ferrández work well together, even if pianist Lambert Orkis is occasionally a little reticent – as if he were wary of treading on his colleagues' toes – surely the wrong tack to take in a work composed by one of the finest pianists of her era.
DAVID THREASHER