An intriguing third volume in the company of a celebrated Strad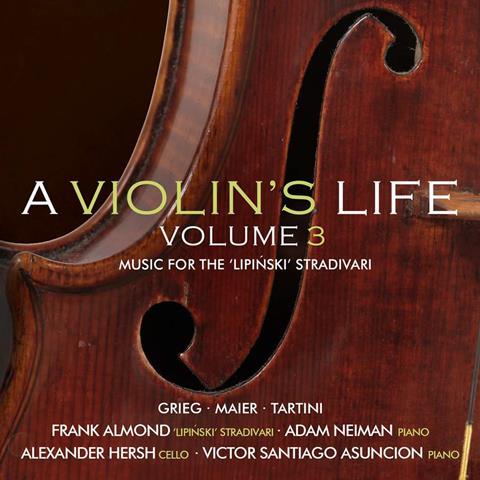 The Strad Issue: October 2023
Description: An intriguing third volume in the company of a celebrated Strad
Musicians: Frank Almond (violin) Alexander Hersh (cello) Victor Santiago Asunción (piano)
Works: Grieg: Violin Sonata no.3 in C minor op.45. Maier: Piano Trio in E flat major. Tartini: Sonata Prima in D major op. 2 no.1
Catalogue number: AVIE AV2612
This is the third CD that Frank Almond, former concertmaster in Milwaukee, Rotterdam and London, has made featuring composers associated with his 1715 'Lipiński' Stradivari. You may recall that in 2014 he was Tasered by thieves after a concert, but the instrument was soon retrieved.
The main interest here lies in the two works involving Alexander Hersh's cello: Amanda Maier (1853–94) was a Swedish violinist-composer with an attractive musical personality (her Violin Sonata is in vol.2). Her Piano Trio (1873–4), which she played with husband Julius Röntgen and Julius Klengel, had been lost and was rediscovered only lately. With a committed performance it is a strong work and quite a find, influenced by Schumann but with a distinctive flavour of its own: the Scherzo evokes Nordic wood-sprites and the lovely main melody of the Andante returns in the Finale.
Tartini's genius burns bright in this D major Sonata, in sonata da chiesa form, giving violin and cello almost equal status. Enrico Gatti and friends on Arcana, using period instruments, have special qualities but this performance on modern instruments is well recorded and stylishly played.
In the Grieg sonata, there's some obscuring of short notes in the first movement, but the other movements are fine, with sensitive pianism from Asunción; the the disc is, in any case, worth having for the Maier and Tartini.
TULLY POTTER