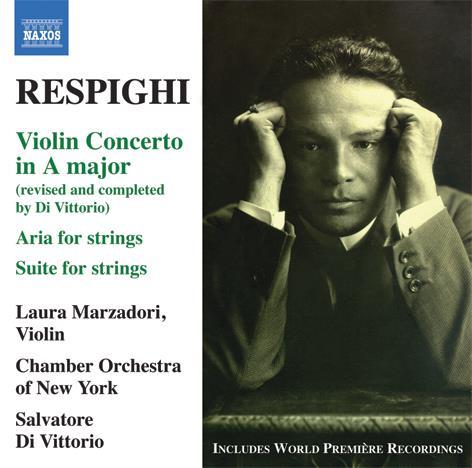 The Strad Issue: January 2011
Description: Standards could be higher in the debut of an otherwise welcome addition to the concerto repertoire
Musicians: Laura Marzadori (violin) Chamber Orchestra of New York 'Ottorino Respighi'/Salvatore di Vittorio
Composer: Respighi
Respighi left the first of his four works for violin and orchestra, a concerto in A major, unfinished in 1903. The first two movements were published in 1993 and the work was only recently completed by the conductor here, Salvatore di Vittorio, who premiered it with these forces in February last year. It's an attractive work that grows on repeated hearing, though it has little of the colour or high-Romanticism of Respighi's mature works.
Laura Marzadori, a student of Salvatore Accardo in Cremona, proves a telling advocate, if a little four-square in places where more subtlety or rhythm and line might be welcome (depending whether you believe her English or Italian biographies, she's playing an 1830 Giovanni Pressenda or a 1701 G.B. Rogeri instrument). Unfortunately, the orchestral playing does her few favours and the recording is often crudely balanced, with wind soloists suddenly leaping into the foreground.
The works for orchestral strings, too, could do with more polish, though the sound is better. It has to be admitted that the highlight of the disc – in terms of musical qualities and performing standards – is the Rossiniana suite for full orchestra, though even here there are untidy corners and there have certainly been more enjoyably louche accounts of the tarantella finale.


Matthew Rye