Sotheby's to sell score from estate of businessman and musician Gilbert Kaplan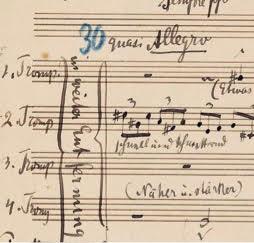 A complete manuscript of Gustav Mahler's Symphony no.2 in C minor ('Resurrection') will become the most valuable musical manuscript ever offered for sale when it is presented at Sotheby's in London on 29 November. The auction house has given the 232-page score an estimated value 'in excess of £3.5m'.
Written in the composer's own hand between 1888 and 1894, the score contains Mahler's original annotations, alterations and deletions. It has never been sold on the open market before.
In 1920 the composer's widow Alma gave the manuscript to conductor Willem Mengelberg, a friend of Mahler's. In 1984 the Mengelberg estate sold it to US entrepreneur and Mahler enthusiast Gilbert Kaplan, who had first heard the symphony performed live in 1965 and was inspired to learn how to conduct it. He went on to conduct the 'Resurrection' (and no other piece) more than 100 times around the world. He died in January this year and the manuscript is now being sold by his estate.
Simon Maguire, a senior specialist in Sotheby's books and manuscripts department, said that the manuscript was 'of truly outstanding historical importance'. 'No complete symphony by Mahler, in the composer's own hand, has ever been offered at auction,' he added, 'and probably none will be offered again.'
Photo: courtesy Sotheby's