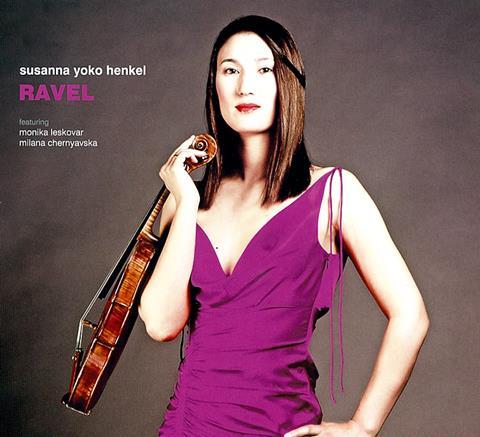 The Strad Issue: January 2006
Musicians: Susanna Yoko Henkel (violin) Monika Leskovar (cello) Milana Chernyavska (piano)
Composer: Ravel
As Susanna Yoko Henkel shows from the start in the cruel demands of Tzigane, she has the technical measure of Ravel. This is just as well given the closeness of the microphone. She also has a lot of style, and makes a convincing gypsy here and a cool blues player in the second movement of the Violin Sonata. Her tone is full and rich in vibrato, which she uses with sensitivity to caress Ravel's twisting lines. Her Tzigane is thrilling, but always controlled. In the Sonata she finds introspection and quiet beauty along with the colour. There is a haunting stillness to the long high notes at the end of the first movement, and she scurries splendidly through the Perpetuum mobile.
The Piano Trio, however, reveals the weakness of this recording. Henkel is the star, billed above Ravel and her colleagues on the cover, from which she gazes alone. This is reflected in the balance, with Henkel normally in the forefront while the fine cellist Monika Leskovar tends to nestle behind, with the piano further back still. And that close miking can make Henkel shrill at full throttle. With the Sonata for violin and cello balance and honours are much more satisfying, and this is a captivating performance. The gentle Berceuse is delightful.
TIM HOMFRAY