The signed note was written around 1786 and was sold through Boston company RR Auction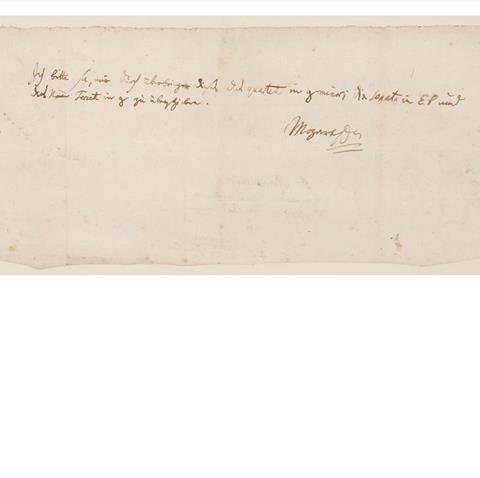 A letter written by Mozart has sold for $217,000 through Boston-based firm RR Auction. The one-page signed correspondence, which carried a reserve of $10,000, was written in German to the composer's friend, Austrian botanist Nikolaus Joseph von Jacquin, asking him to return three musical scores.
The note reads: 'I ask you to send me by the bearer of this, the Quartet in G minor, the Sonata in E flat and the new Trio in G.'
The pieces Mozart refers to are his Piano Quartet no. 1, Violin Sonata no. 33, and Trio for Piano, Violin and Cello, K496. Given the last work was completed in July 1786, it is estimated the letter dates from shortly thereafter.
'Mozart letters are among the most sought after of all musical autographs, and with such specificity concerning his own compositions this is a truly outstanding example,' said Bobby Livingston, executive vice president at RR Auction.
Watch: David Fulmer performs on Mozart's violin
Read: Lock of Mozart's hair smashes estimate to reach £35,000 at auction