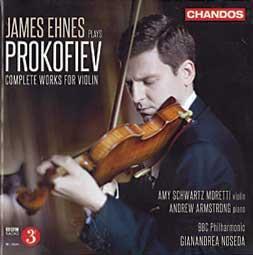 The Strad Issue: January 2013
Description: Accounts of Prokofiev that don't quite hit the mark
Musicians: Vadim Gluzman (violin) Angela Yoffe (piano)
Composer: Prokofiev
Angela Yoffe introduces Prokofiev's First Sonata in world-weary mood, but Vadim Gluzman eventually lifts the gloom with a delicate and wispy tracery. There are recordings of the following Allegro brusco that present a more acerbic approach to its inherent brutality, but few equal the lyric beauty that Gluzman brings to the following Andante. Framed by suitably virile and percussive passages, that beauty continues into the finale. Gluzman's approach throughout reminds us that the work's composition spanned the years 1938–46 and has led to its erroneous description as a 'war sonata'.
The playing is quietly confidential in the first movement of the Second Sonata, though by adopting absolute rhythmic rectitude the players miss that bitter-sweet element in the yearning melody that runs through the movement. A suitably mercurial scherzo and a nicely flowing Andante lead to an admirably swaggering and incisive finale. Throughout, the duo surmounts the many technical challenges, and these performances would be highly recommendable if only Gluzman's intonation were a little firmer.
Nice bouncy tempos for the three arrangements of dances from the ballet Romeo and Juliet don't compensate for this being a rather stingy coupling, but sound quality and balance overall are very good.



DAVID DENTON