The recent discovery of another cadenza to the first movement of Beethoven's Violin Concerto, likely by Vieuxtemps, sheds an interesting light on the early performance history of the work, writes Martin Wulfhorst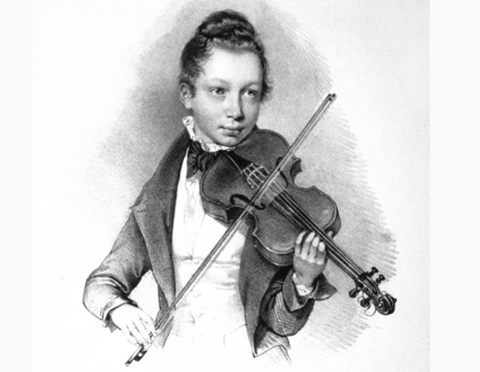 The following is an extract from an article on a new Vieuxtemps cadenza discovery in The Strad's December 2020 'Willemotte' Stradivari issue. To read in full, click here to subscribe and login. The December 2020 digital magazine and print edition are on sale now.
What led a young Belgian virtuoso – during an era when most violinists rejected Beethoven's concerto as unrewarding or even unplayable, if they knew the piece at all – not only to perform the work but also to compose cadenzas for it?
True, Vieuxtemps began his career as a prodigy, studying the popular flashy music of the Franco-Belgian violin school with his teacher and fellow countryman Charles-Auguste de Bériot (1802–70). Yet as revealed in his autobiographical letters of 1880 (Royal Library of Belgium, Brussels), at age twelve Beethoven's violin sonatas 'transported him into heaven', and at age thirteen the dungeon scene from Fidelio moved him deeply and robbed him of his sleep. A little later, while he was staying in Vienna for a few months (1833–4), he came into contact with many former members of Beethoven's circle. It was apparently Beethoven's secretary and copyist Karl Holz (1798–1858), second violinist of Ignaz Schuppanzigh's famous quartet, who acquainted Vieuxtemps with the Violin Concerto (according to Andreas Moser's 1901 biography of Joachim). This led to a historic performance of the piece on 16 March 1834. Certainly, we need to correct the claim made by Vieuxtemps in his autobiographical letters that this was the first time since Beethoven's death that the piece had been played: there had been performances in Paris, Kassel, London, Vienna and Leipzig between 1828 and 1833. Still, the significance of Vieuxtemps's debut cannot be overrated.
Read: Anne Akiko Meyers on playing the 'Vieuxtemps' Guarneri 'Del Gesù'
Read: Hilary Hahn discusses why Vieuxtemps' Fourth Violin Concerto is so special to her
Immediately, the Viennese musicians and critics recognised not only the 14-year-old boy's instrumental prowess but especially his ability to differentiate between diverse styles and his efforts to place the composer above the performer – in complete antithesis to the virtuoso culture of the day. The contemporary journals praised his capacity to penetrate 'into the spirit of the composition', 'his comprehension and his performance style adapted to the character of each piece – in short his musical genius' (Allgemeiner musikalischer Anzeiger, 1834, vol.6 no.13). With his Beethoven performances during the decades after his 1834 debut, Vieuxtemps ravished audiences in the musical centres from Vienna to London and from Paris to St Petersburg and Moscow. These concerts placed him at the helm of a uniquely Viennese performing tradition for the Violin Concerto (Franz Clement, 1780–1842 – Joseph Böhm, 1795–1876 – Jakob Dont, 1815–88 – Joseph Hellmesberger I, 1828–93) – a tradition preserved in his own edition of the work, published in 1869, and later continued and further developed by his students in Belgium and Russia. When Ysaÿe studied with Vieuxtemps, the young man's father described the playing of his teacher as follows: 'The bow seemed to go right round his body, it had no end' (see Ysaÿe, Henri Vieuxtemps, mon maître, 1968). Ysaÿe himself praised especially the Beethoven performances of his two teachers, Vieuxtemps and Wieniawski: 'They sang this work… they expressed themselves without restraint… all you heard was sound… everything else vanished before your eyes.' (Lev Ginsburg, Ysaÿe, 1980).
This article was published in the December 2020 'Willemotte' Stradivari issue

The late-period violin's strong personality is the perfect match for its current owner Leonidas Kavakos. Explore all the articles in this issue. Explore all the articles in this issue

More from this issue…