The cellist reflects on the challenge of juggling a busy performance career with travelling not only with a cello, but with a small infant!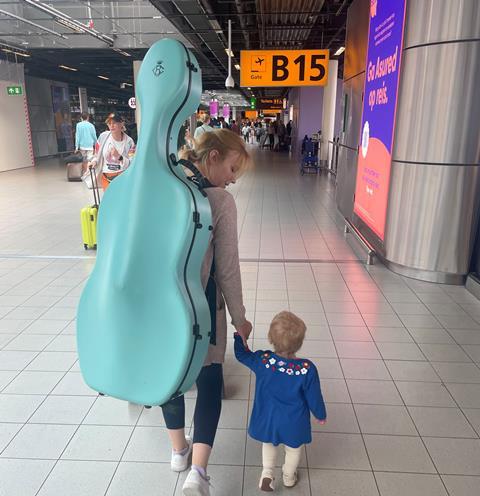 Discover more Featured Stories like this in The Strad Playing Hub
How do you deal with the complications of having to take so many flights with your cello? Recently you've had to book three seats instead of two…
I have to say that travelling with the cello doesn't get any easier with time, as one would imagine. The process of booking an extra seat can sometimes take forever, it means lots of phone calls, waiting, lots of explanations, giving lots of different dimensions of the cello's size depending on airline or aircraft..it's rather nightmarish to go through this process, and I really prefer not to do it myself.
I was very surprised when some companies refused my bookings with cello and baby - I had to explain that I am travelling for work and that I simply have no other choice than bringing my baby with me. Both my husband (violinist Daniel Rowland) and I are musicians, we travel a lot, and although many times we play together, we also have our solo careers. Travelling alone with Lily and the cello can be fun if we have enough time for transfers, and as she is a very good girl, usually the crew are super understanding, kind and helpful!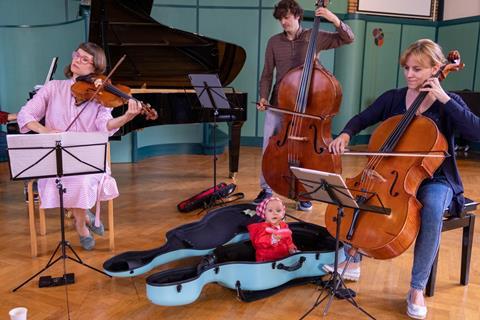 Does your daughter Lily attend rehearsals and concerts? How does she behave when you are on tour together?
We often bring her with us! She is still only two years old. She is used to travelling. We took her with us to our first concerts only one month after she was born. She very much enjoyed Schoenberg's Verklärte Nacht and the Korngold Quintet, and since then she is around most of the time and brings us enormous joy. Before she was able to walk, she loved (and still occasionally does) playing in my cello case during rehearsals.
Lily is a very happy child, she adores music and dancing, and says that she plays violin 'like papa', but also is a 'ballerina'. She knows the Nutcracker by heart, all the choreography, she sings in tune melodies of Beethoven's Symphony no.5, and Saint-Saens The Swan.
Besides our musician friends that she now considers as her own friends, she has also met several times great composers such as Peteris Vasks and Osvaldo Golijov, and the Serbian composer Ivan Jevtic wrote a four movement piece for Daniel and me titled Pour petite Lily.
I discovered that the cello case is really fantastic and multi-functional, for changing nappies, playing, sleeping…
Your husband and Lily's father is the violinist Daniel Rowland. How do you share the workload of having a child while still developing your careers as two busy touring musicians?
I can't say it is easy with two travelling musicians. We are lucky that sometimes we travel together, and play together - which can be another challenge, that we need to have an army of babysitters. My parents also help a lot, when they can, but they live in Belgrade. Of course we share the time with Lily, whenever we need to practise or rehearse, depending who has what in that moment, and with help of daycare and babysitters, it is possible.
What is interesting is that practising became much more focused and efficient. It is true that lots of time and weight, with such a small child, remains in the beginning on mama's shoulders, the day flies away very quickly. Besides daily practising, Daniel also has his Stift festival, which is wonderful and ambitious. It is like a real musical feast and marathon, with 45 concerts in one week! That also takes a lot of time in the year to organise, with lots of brainstorming and catching inspiration, and I admire how much love and energy he devotes to the festival.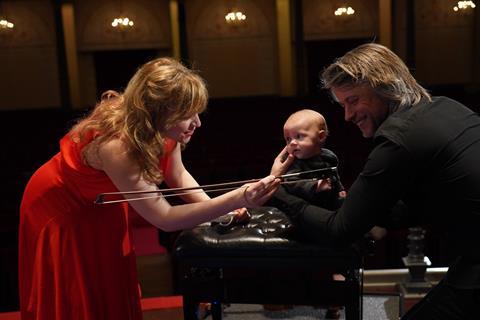 How has becoming a mother changed your approach to music and music making?
When you play or do anything else without your child, you always have little part of your brain thinking 'is she OK, did she eat, is she crying or is she calm…' but as I mentioned, as practising changed and became more focused, performing on stage also got another dimension and sense of freedom. I became much more aware of women's power, how strong women can be and deal with everything - starting with one's own body changing, being able to grow a life inside, to sleep much less, to handle an energetic baby, to travel alone with a baby, to have so many things to take care of, and still go on stage strong and concentrated. It is amazing, totally do-able! Lily also gives a lot back - it is so enriching, every day we discover more and more, about life, music and limitations.
Tell us about your new album of the Saint-Saëns and Lalo cello concertos.
I was so happy when I was offered this opportunity to record a CD of French music, with the first orchestra I ever played with (Serbian Radio TV Orchestra), and in the epic Kolarac Hall which is the heart and soul of Belgrade's music life. We all grew up on that stage, the acoustics of the hall is magical, and my heart is always racing when stepping on the stage. The Saint-Saëns is a gorgeous, compact cello concerto and I always have lots of fun playing it. It has everything, from the stormy beginning to beautiful lyric themes, a balletic middle movement, and the melancholic and fiery finale. This year, we are also celebrating the 200th anniversary of the birth of Edouard Lalo. It is quite exciting to present his cello concerto which is somewhat forgotten, not often played, extremely beautiful, dramatic, with beautiful melodies with a Spanish touch… and a piece that is very dear to me.
Now I live in Amsterdam with my family, and looking backwards, it was the perfect time to record these pieces that I love to bits.
Maja's album Saint-Saëns & Lalo Cello Concertos with the RTS Symphony Orchestra and conductor Bojan Sudjić is out now digitally on Challenge Classics, with UK physical release on 2 June 2023.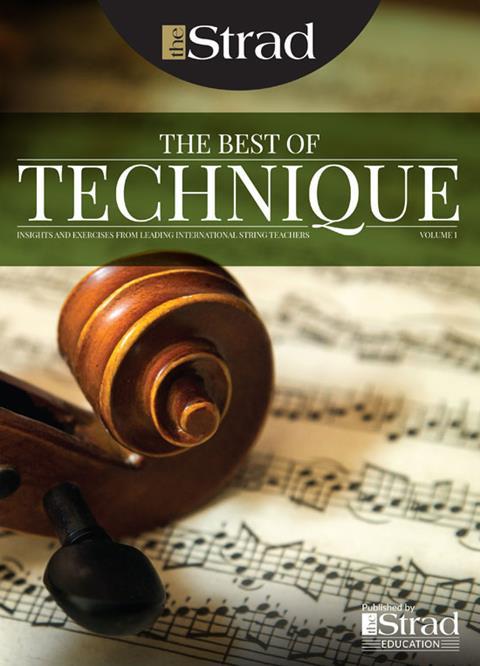 In The Best of Technique you'll discover the top playing tips of the world's leading string players and teachers. It's packed full of exercises for students, plus examples from the standard repertoire to show you how to integrate the technique into your playing.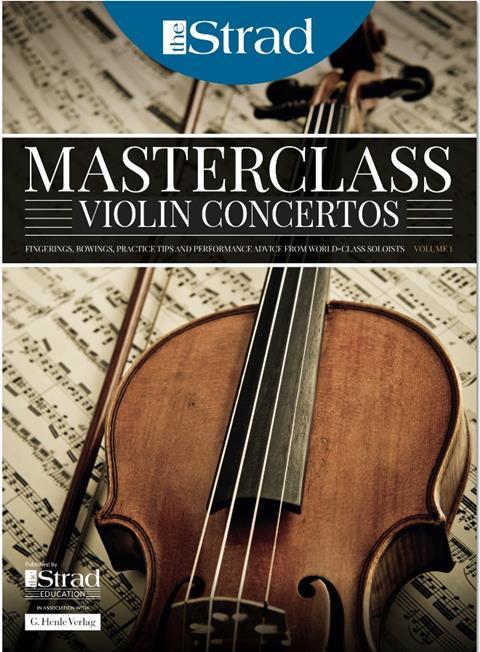 The Strad's Masterclass series brings together the finest string players with some of the greatest string works ever written. Always one of our most popular sections, Masterclass has been an invaluable aid to aspiring soloists, chamber musicians and string teachers since the 1990s.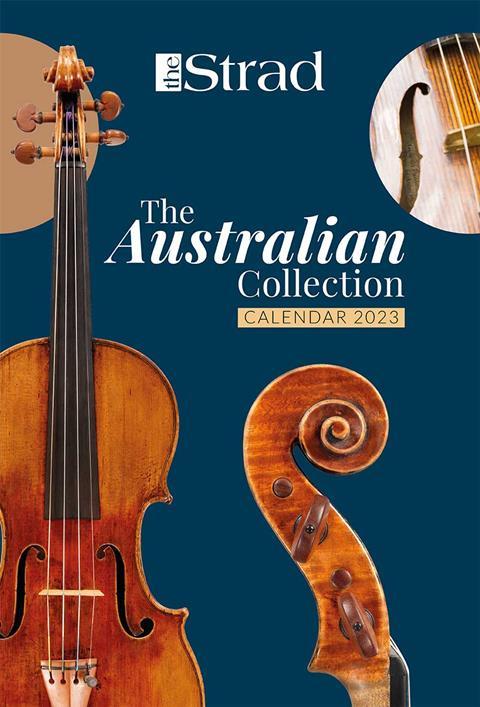 This year's calendar celebrates the top instruments played by members of the Australian Chamber Orchestra, Melbourne Symphony, Australian String Quartet and some of the country's greatest soloists.