With multiple venues embracing live-streaming and making past concerts available online, we present a round-up of the best sources for string music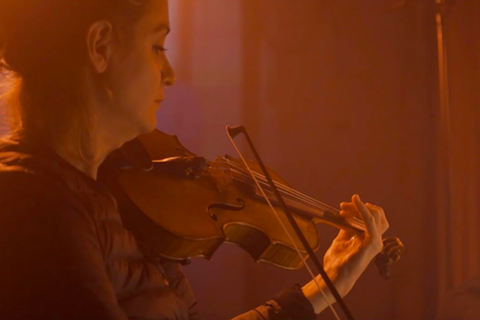 1. Academy of Ancient Music: Sunday Streams
The early music ensemble is releasing videos of its past concerts, this week featuring countertenor James Hall and violinist Viktoria Mullova, who play music by Bach, Haydn and Grimani. Concerts are broadcast on the AAM Youtube channel every Sunday at 3pm (BST), and stay in the archive.
https://www.youtube.com/user/acadofancientmusic
2. Budapest Festival Orchestra: Quarantine Soirées
Members of the ensemble, Together with their inventive conductor Iván Fischer, are livestreaming 'Quarantine Soirees', a series of nightly chamber concerts filmed in the BFO's rehearsal studio. Programmes have so far been eclectic, ranging from Mozart and Beethoven to the contemporary Hungarian composer Gyorgy Orban, and some forays into folk music.
3. Melbourne Recital Centre
Here you will find mostly Australian performers in a huge, and imaginative selection of classical and contemporary chamber repertoire. Try the Strelitzia Ensemble playing music by Gayaneh Tchebodarian, Alicia Grant and other female composers; or the Horsley and Williams Duo fusing electro-acoustic music with 18th-century counterpoint.
https://live.melbournerecital.com.au/
4. Wigmore Hall: 'Live Stream'
A new series, made up exclusively of solo recitals and duos, will see some of the world's leading musicians returning to a concert hall for the first time since the lockdown. It takes place every week day through June and includes performances from James Baillieu (piano), Benjamin Baker (violin), Iain Burnside (piano), Allan Clayton (tenor), Michael Collins (clarinet), Imogen Cooper (piano), Lucy Crowe (soprano), Nicholas Daniel (oboe), Iestyn Davies (countertenor), Julius Drake (piano) Benjamin Grosvenor (piano), Angela Hewitt (piano), Stephen Hough (piano), Elizabeth Kenny (lute), Pavel Kolesnikov (piano), Paul Lewis (piano), Michael McHale (piano), Joseph Middleton (piano), Mark Padmore (tenor), Hyeyoon Park (violin), Timothy Ridout (viola), Sean Shibe (guitar), Anna Tilbrook (piano), Samson Tsoy (piano), Ailish Tynan (soprano), Mitsuko Uchida (piano), Adam Walker (flute), and Roderick Williams (baritone).
https://wigmore-hall.org.uk/live-streams
5. London Mozart Players: LMP 'At Home'
In a diverse schedule of digital content, the London Mozart Players are offering 'Chamber Tuesdays'; as well as a series 'Homespun Miniatures' by the British Composer Alex Woolf, winner of BBC Young Composer of the Year 2012, for the musicians of the London Mozart Players to premiere and record in their own homes.
http://londonmozartplayers.com/athome/
6. YCAT Archive
The Young Classical Artists Trust has an extensive archive of performances on YouTube. Don't miss the Castalian Quartet and pianist Daniel Lebhardt in Brahms's Quintet in F minor; and cellist Michael Petrov's soulful rendition of Shostakovich's Cello Concerto No 1.
https://www.youtube.com/playlist?list=PLH0_7s4sNk4h6Ul0J6BWUcslm-Q38AA9p
7. Gstaad Menuhin Festival: Digital Festival
The digital festival offers concert highlights, backstage interviews and masterclasses from the Gstaad Menuhin Festival. Among them is cellist Sol Gabetta playing Beethoven's cello sonatas and a concert of contemporary music from the violinist Patricia Kopatchinskaja, harpsichordist Anthony Romaniuk and viola da gamba player Laurence Dreyfus.
https://www.gstaaddigitalfestival.ch/
8. Lincoln Center At Home: Weekly Lunchtime Playlist
Every weekday at 12:30 pm (ET) the Chamber Music Society of Lincoln Center is sharing performances from its archives - centred, each week, around a different theme. This week's theme is 'Friendship and Love', with highlights including a performance of Beethoven's 'Archduke' Trio from violinist Erin Keefe, pianist Jeremy Denk, and cellist Efe Baltacigil; and Franck's Sonata in A major for violin and piano from violinist Benjamin Beilman and pianist Alessio Bax.

https://www.chambermusicsociety.org/watch-and-listen/playlists/friendship-and-love/
9. The Manchester Collective: Live from Isolation
Known for putting on unconventional performances in unexpected locations, this group is producing a series of live online events on Instagram, Facebook and YouTube throughout the coronavirus shutdown - and a selection of past events are also available on their website, including 'Cries and Whispers, a chamber concert combining Gesualdo's madrigal, 'Moro, lasso, al mio duovo', and Shostakovich's 8th string quartet.
https://manchestercollective.co.uk/live-from-isolation
10. At Home concerts
Musicians broadcasting performances from their homes include cellist Yo-Yo Ma playing music that gives him comfort; violinist Daniel Hope, performing alongside a number of leading musicians; violinist Elena Urioste and pianist Tom Poster, taking musical requests that they then turn into arrangements for violin and piano. Violinist Tamsin Waley-Cohen offers 'Living Room Live', a series of livestreamed solo and chamber concerts featuring her own performances alongside those of up-and-coming young musicians. Meanwhile The Cusp Magazine is livestreaming quirky concerts from musicians combining classical music with other art forms.
11. 12 ensemble
12 ensemble + is going to be streamed at 7pm this Wednesday 13th May. Live-streamed from the ensemble's website and across all social-media channels simultaneously, it's an opportunity to experience everything the 12 Ensemble offers for free. It includes archive concert performances, exclusive interviews with international musicians and artists and behind-the-scenes footage of the group's projects and residencies.