Peter Quantrill hears Mozartians of the future competing in the violin category of the biennial Zhuhai International Mozart Competition for Young Musicians – by the shores of China's Pearl River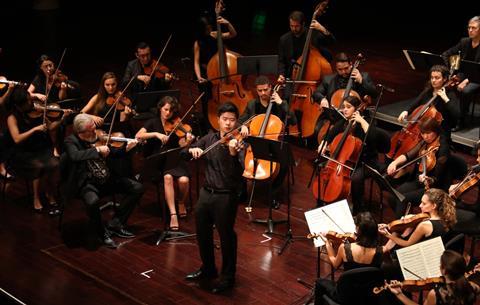 Simon Zhu took the top prize of $30,000 in Group C for his lively performance of Mozart's Fifth Concerto
What is it about Mozart's music that responds to young people, or at least the young at heart? The question was answered, if not resolved, in late September at the Third Zhuhai International Mozart Competition for violinists (and pianists).
The violin competition finals took place over a week in the gilded Mozart Concert Hall of the Zhuhai Huafa & CPAA Grand Theatre, named after the real estate group that sponsors the competition and has developed acre upon acre of the city's sprawling suburbs. You won't find the theatre on Google Maps, which has inconveniently submerged a swathe of southern Zhuhai beneath a misplaced river, but all you need is courage and 1 yuan – about 10 pence – in your hand to catch a bus from the central Gongbei station, which will drop you by the door.
Perched on the western lip of the Pearl River Delta, Zhuhai is a young city, literally on the rise – tower blocks and motorways under construction everywhere you look, turbocharged by a uniquely Chinese form of hyper-capitalised Communism. 'When I first came here, it was all grass,' said Paul Roczek to me over breakfast in the hotel next to the theatre. Artistic director of the competition's violin category, Roczek is also a professor at the Mozarteum University Salzburg. Five years ago the competition was set up by his former pupil Yao Lu after an abortive attempt to link the Austrian university with the China Conservatory of Music in Beijing. The first edition took place in 2015.
From the start, Lu and Roczek wanted a distinct profile for the competition, and they knew how to achieve it. 'Mozart is good for young musicians,' as Roczek remarks. It's good for competition jurors, too: 'A friend working at the Queen Elisabeth Competition in Brussels told me that he heard ten out of twelve contestants play the Shostakovich First Violin Concerto, and it was impossible to tell the difference between them.'
Mozart finds you out like no other composer, in matters of phrasing and intonation. Furthermore, while his five violin concertos reflect the teenage composer's own considerable assurance as a performer, they were not written with virtuoso display in mind. 'When I was growing up in Vienna,' remembers Roczek, 'I learnt Schubert sonatinas. Now seven-year-olds bring you a Paganini caprice – and it can be hard to know just how musical they are. So in the pre-finals I have them play a Bach accompanied violin sonata. These are not technically difficult for most candidates, but it can be challenging to get under the notes.'
Winnowing 180 violin applications left around six candidates in each of three categories divided by age from 10 to 23 (the oldest this year being 21). They came from America and Europe, as well as Asia but, says Roczek, 'I was a bit shocked by the standard of some of the "Western" candidates. I hate the fact they didn't use Mozart's bowings. For 50 years I have been playing his quartets and trying out different bowings, and none of them are as good as the composer's!'
According to Roczek, the competition's stature is steadily rising: 'It's the standard of the weaker players that tells me that the competition is both having an effect and also rising in status.' For the first time, the jury were requested not to enter any of their own pupils into the competition, to bring it in line with a China-wide anti-corruption drive. 'We worried a little bit about what would happen to the standard – there are teachers on the jury who could have entered some very fine candidates – but in fact it has been higher than ever this year.'
Each finalist presented a Mozart concerto, having had an hour's rehearsal with the excellent, period-style Salzburg Chamber Soloists and their leader Lavard Skou-Larsen. Roczek's fellow jurors were Julius Berger (chairman), Lewis Kaplan, Boris Kuschnir, Michael Ma, Silvia Marcovici, Weidong Tong and Zhou Xian, and, to my ears, they came to all the 'right' conclusions. There was certainly no doubting which of the four Group A candidates (aged 12 years and under) should carry off the first prize of $7,500: Jinan Laurentia Woo, a 12-year-old from South Korea of preternatural composure whose account of the Third Violin Concerto was the single most memorable performance of the entire competition. As Roczek remarked to me afterwards: 'She has something you cannot teach.'
However, she also had a larger and more mature sound than her competitors, and an acute grasp of Classical style that led her, almost alone of any finalist, to listen and respond to the ensemble and play along with them in the main tuttis. I was astonished to learn from her afterwards that this was the first occasion she had ever played with an orchestra.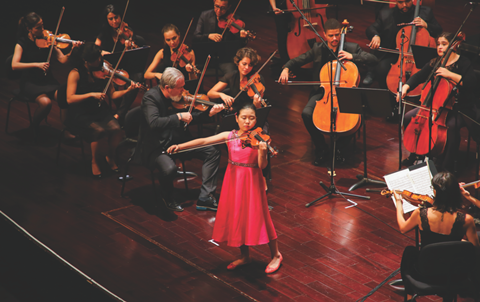 Group A winner Jinan Laurentia Woo showed preternatural composure in Mozart's Third Violin Concerto
It was generally agreed that the middle category (Group B: aged 13–16) fielded a weaker group of candidates. Concerned to play deeper into their instruments, they tended to lean more heavily into accents and cover phrases with an all-purpose legato. However, Lina Nakano (14, from Japan) deserved her first prize of $15,000 for a subtle range of colours between light vibrato and pure tone, and nicely varied repetitions of the alla turca material in the Fifth Concerto's finale.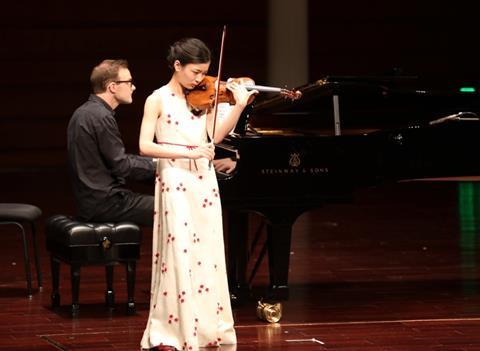 Lina Nakano was the winner in Group B for her subtle range of colours in Mozart's Fifth Violin Concerto
The young violinists in Group C (for ages 17–23) stepped up another gear in terms of projection and tonal assurance. In the pre-concerto section of the final, where they were accompanied on the piano in the first movement of a Romantic concerto, third-placed Yiying Jiang (21, from China) showed tremendous promise in the Sibelius, but she came badly unstuck in the Mozart. The 18-year-old Elli Choi (US) made a small but refined sound on a Gofriller; had she listened more attentively to the orchestra she would have grasped how to shape the Fifth Concerto's slow movement without breaking it into sections. She earned second prize.
Born in Tübingen, Germany, and already an old hand of the competition circuit, the 18-year-old Simon Zhu took first prize of $30,000 with a deceptively boy-next-door account of the Fifth Concerto, engaging with both orchestra and audience in lively fashion but also owning the spotlight as any true soloist must. Reprising the last two movements at the competition's closing gala concert he had the audience rapt – not so easy in China, where concerts are social events as well as musical ones. But, for me, on the plane back from Hong Kong it was the memory of Jinan Woo – her simplicity and wisdom beyond her years in the Third Concerto's slow movement – that accompanied me home.
Photos courtesy Zhuhai International Mozart Competition for Young Musicians
This article was published in the January 2020 Lisa Batiashvili issue

Georgian violinist Lisa Batiashvili discusses her latest projects, among them artistic directorship of the Audi Summer Concerts festival and performing on the soundtrack to The White Crow. Explore all the articles in this issue.

More from this issue…