Shanghai Conservatory of Music's chamber music competition aims to popularise the form for students, teachers and listeners alike, as Nancy Pellegrini discovers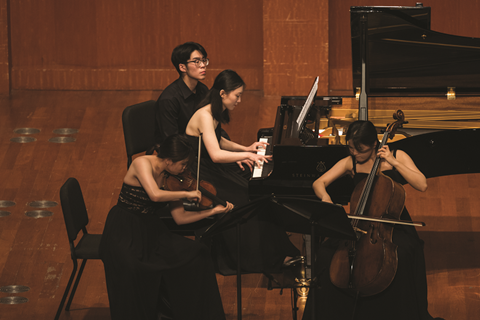 Chamber music hasn't traditionally been a natural fit for China – a country that has instinctively celebrated the heroic soloist and the powerful orchestra. But recent shifts in attitude have been tremendous, thanks in part to Jensen Horn-Sin Lam, viola and chamber music professor at the Shanghai Conservatory of Music (SCOM) and founder of SCOM's Atelier of Chamber Music, which promotes awareness of this locally underrated genre.
Lam is also head of SCOM's competition for string quartets and piano trios, an Asia-focused event for students from middle-school to post-graduate level, aged between 12 and 28, which took place in May for the fifth time since its 2009 inception.
Because chamber music outreach remains a necessity in China, Lam emphasises the festival component of his event over the competition. The invited piano trios and string quartets perform in nightly concerts, experts hold forums and seminars and, crucially, the competition's first round takes the form of a series of juror-led masterclasses. 'I want all the participants to have the opportunity to learn about chamber music before they are eliminated,' says Lam. 'In that sense, this event is not really a competition.' The juror-teachers base their first-round evaluations not on ensembles' performances but on their flexibility and receptiveness to instruction, and all groups advance to round two.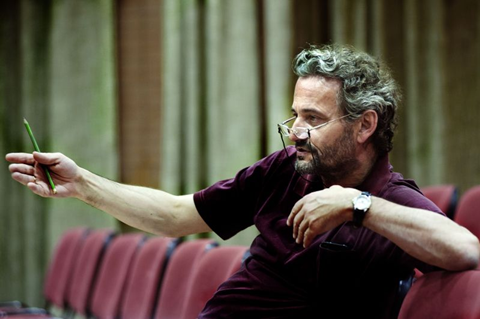 This level of outreach may be unusual, but it is also necessary. As recently as ten years ago, impresarios in China saw string quartets and piano trios as box-office poison. Conservatoire teachers would tell their students that if they had to waste their time playing chamber music they should join a string trio and not a quartet: the tuning was easier and the parts were more soloistic, apparently. Students aimed for solo careers, with the 'failures' ending up in orchestras – anyone who had waded through chamber music's copious repertoire would be unemployed.
In fairness, this view was not unique to China. Austrian violinist Johannes Meissl, jury president and SCOM guest professor, observes that even educational institutions in musically seasoned Europe and the United States took a while to appreciate chamber music fully, and that most Western conservatoires introduced compulsory training only a few decades ago. 'The attitude was that chamber music was a career for only a happy few,' he says, adding that players for chamber concerts were always drawn from Europe's stellar orchestras.
But the market is changing, and these same orchestras are cutting their numbers. 'Many conservatoires now realise that training someone for a solo or orchestral career just doesn't work any more,' he says. 'We cannot train people for jobs they are not likely to do.' The solution, he argues, is portfolio careers: musicians can join a contemporary quartet one week, a period piano trio the next, and finish the month with a specialist orchestra. 'All these groups require ensemble training,' he says.
'Conservatoires now realise that training someone for a solo or orchestral career just doesn't work any more' – Johannes Meissl, Jury President
China's many orchestras are still taking recruits, but Chinese teachers and instrumentalists increasingly see chamber music as crucial for basic musicianship. 'The most important skill that musicians need is to be able to listen to what is going on around them,' says Meissl. 'Playing chamber music is the only way to learn how to do that.' He also feels that playing in small ensembles helps students to learn about 'musical expression, shaping and developing a musical style'.
Lam has duly made Haydn the required composer for the competition's second round, as well as the focus of the masterclasses, in an effort to cultivate deeper musical engagement. 'Haydn is very important for understanding the basics of chamber music – structure, harmony, phrasing, colour and tonality,' he says. The structural transparency and clarity of Haydn's music can be used as an effective learning tool. 'With solo instrumental tuition, we concentrate on technique and one single line, so we don't have an overview. Haydn is an important guide.'
This year's contest featured 17 string quartets and 14 piano trios from mainland China and Hong Kong, up from 12 and 13 respectively in 2016. Eleven quartets and eight trios were eliminated in round two, leaving the rest playing from a predetermined list of Mozart, early Beethoven, Smetana, Dvořák, Shostakovich and other works that organisers deemed age- and experience-appropriate.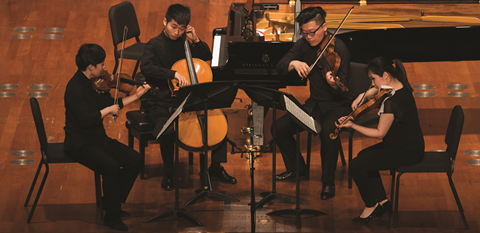 'Late Beethoven is too difficult to understand; nobody would play that in any conservatoire in China,' says Lam. 'We selected a repertoire list based on technical requirements and the necessary musical ability.' The competition also offered a special prize for interpretation of Viennese classical works; another distinction was the Young Performer Award, meant to encourage the numerous and surprisingly gifted middle-school (under the age of 17) students involved. 'We know that younger students might be playing beyond their emotional understanding,' says Lam, 'but we still want them to appreciate and respect chamber music.'
At SCOM, university-level students study compulsory chamber music for three years, and the conservatory's middle-school students study the form for several years, starting at the age of 14. But Lam has created a natural enthusiasm for this genre that goes beyond classroom requirements, and this was evident in the majority of entrants from SCOM. 'Shanghai Conservatory very clearly has a leading role,' says Meissl. 'And there has been some strong encouragement and development at other conservatoires in China. But for the country's chamber music scene to grow, even more ambition and effort is needed at these institutions.'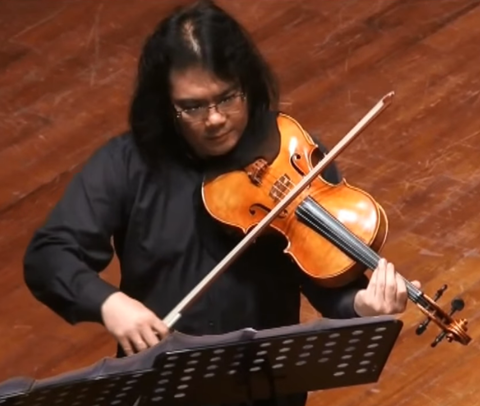 Instead of forming serious student chamber groups like those at SCOM, teachers in China generally assemble their best students into ad hoc ensembles for the competition. This is not ideal, Meissl says, but better than nothing; indeed, over the years the level has risen dramatically. Not so long ago, a good student chamber group was one that played in tune and had some level of communication.
This time, a number of ensembles seemed not only seasoned but almost professional. And the phenomenon is spreading: this year, three entrants came from the city of Xian, and two of them won awards; while another prizewinner came from Tianjin. Both of these cities have long languished in the shadow of Beijing and Shanghai. Lam also points out that teachers from other conservatoires and the less prestigious university art schools came to observe. 'More and more teachers educated in the West know the importance of chamber music,' he notes. 'The old-fashioned thinking is changing.'
But although Lam hopes to launch a more prestigious international competition in the future, he is convinced that two things will never change: one, that the first round will always be a masterclass, and two, that the SCOM festival and competition will go on in tandem with any higher-level event. 'This festival is designed to encourage more students to appreciate chamber music,' says Lam. 'If I were to concentrate fully on a new competition in years to come, what would be the point of the efforts I've made to develop chamber music in China during the past ten years?'
This is article is from the August 2018 issue of The Strad