Violist of the Danish Quartet Asbjørn Nørgaard shares the ensemble's need to further explore string quartet repertoire through its Prism project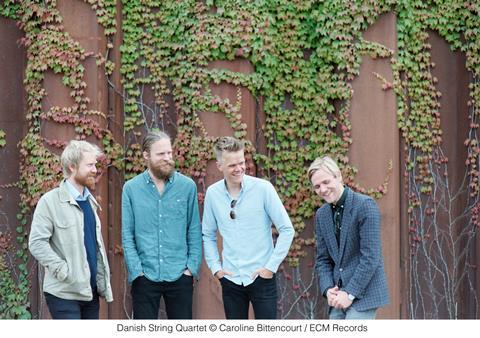 It is a privilege to play in a professional string quartet. We have all the joys of the established classical music world: a vast pool of wonderful standard repertoire, a certain demand for concerts and a pretty formalised and accepted concert format. But in addition to this, we have much more freedom and room for manoeuvre than big institutions such as symphony orchestras and opera houses: in a string quartet, the path from idea to reality is very short.
Any string quartet spends large amounts of time in the rehearsal room, just trying to honour and do justice to the musical scores. But in our group, we love to also spend time working on our bigger ideas and dreams. At any given moment, we have several projects brewing that are connected to the string quartet in different ways: genre crossing projects like our dips into folk music, pedagogical initiatives like our new DSQ Academy, our festival, our concert series, different commissioning projects (like Doppelgänger), theatrical performances, apps, podcasts and so on.
We are four different people, and our string quartet is the pot into which we can each pour our personal dreams and ideas to see if we can cook up something nice together. We love the standard string quartet format, but we also can't just keep playing 3-set concerts starting with a Haydn quartet forever…
The basic idea for our Prism series came to our mind on a Lufthansa flight back in 2015, as I was reading Lewis Lockwood's Beethoven biography. Most of our ideas and projects are developed en route to concerts, so the Covid period hit our artistic development as hard as our bank accounts (when we are home, we spend all our time daddying a horde of kids).
The Prism project is probably at the more conservative end of the spectrum, whereas some of our other projects are perhaps more closely aligned with the current zeitgeist in classical music. It is centred around the pedestal of Beethoven. With simple curation, we connect his last five quartets to the music by Bach and five later masters. It's nothing radical, but we think it is an elegant way to put these five musical monoliths in a bigger context, and we feel the project makes sense on paper as well as in the heart. The musicologists will hopefully be somewhat convinced, but more importantly: as the musical line of the albums starts to unfold, we find it is indeed a meaningful and new journey through music that everyone already thought they knew.
The Danish Quartet's latest album Prism IV, consisting of works by Bach, Beethoven and Felix Mendelssohn is out now on ECM Records