Justin Pearson interviews conductor Raffaello Morales and cellist Steven Isserlis about the Fidelio Orchestra Café, which is putting on performances during the pandemic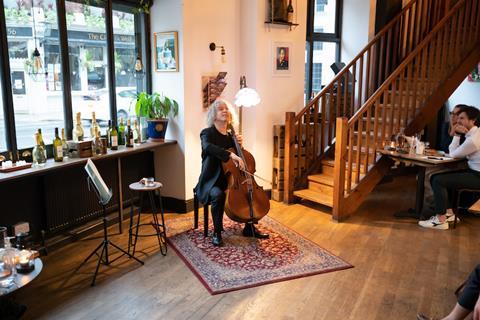 A bold decision to turn one of London's major art galleries into a venue for musical concerts was taken at the outbreak of war in September 1939. This was the result of what Kenneth Clark, the National Gallery's Director, called 'the cultural blackout' that followed the announcement of hostilities.
As the real blackout came into force the capital fell dark at night, its theatres, galleries, cinemas, and concert halls shut their doors in response to government ruling. With pictures evacuated, the Director was saddened by his inability to offer Londoners comfort just when they needed it most. Clark was visited by the celebrated pianist Myra Hess, who shared his dismay. The arts, she believed, played a powerful spiritual role in the health of a nation. Hess proposed using the Gallery as a venue for concerts and these performances subsequently became beacons of hope during the darkest of times.
The recent concert series at London's Wigmore Hall during Covid-19 lockdown has created similarly deeply felt responses. Both artists and large radio audiences worldwide have reacted with heightened emotion. Every one of these concerts will be remembered for a long time.
Less publicised, but no less remarkable, is the music making at a café located in central London's historic Clerkenwell district, curated by an inspirational and philosophical proprietor, Italian-born pianist and conductor Raffaello Morales. The Fidelio Orchestra Café hosts a chamber music concert series with several performances each week, providing a platform for emerging artists as well as hosting internationally established musicians.
On a recent visit, I found Morales in passionate and philosophical mood.
This indefatigable Roman musician gave up training as a pianist to pursue a parallel interest in science, gaining a degree in Theoretical Physics and a PhD in Mathematics. He worked for some years in the City of London, before returning to music. He now conducts the Fidelio Orchestra, runs a café, books artists, acts as hosts to his guests, runs all aspects of the business, introduces concerts, even turns pages for pianists.
'Our venue is first and foremost a place to build lasting friendships and relationships with musicians,' says Morales. 'My mission is to create a cultural revolution by generating interest and love for classical music for a new generation. I believe in the importance of taking down barriers and boundaries, offering a uniquely harmonious and intimate atmosphere that cannot be found anywhere else in the city, that is what our café is all about.'
Most concerts are followed by a three-course dinner created by chef Alan Rosenthal. Morales plans to turn the café into a hub for classical music. Contemporary string instrument dealers MyLuthier have made the basement their London office, Morales rented space for smart working and entertained approaches from major artistic organizations to be based at the café.
'Two years ago, I decided I had to be more bold, more daring. This was the context. I found this place and started having all sorts of musicians performing, but there was always the food component. I didn't know much about running a restaurant but then I met Alan and we shared our passion for music and food.'
Then the virus struck. Lockdown was introduced.
'When I reopened in July, there was so much going against us, but it took guts to say, 'Let's do it, and let's do it to a very high level'. The main risks were financial: it was all so improvised, so unpredictable.'
'I will always be grateful to Steven Isserlis,' says Morales. 'He was my first artist; he believed in the idea, even though it sounded crazy. He, too, wanted to make a statement: that it was still important to make music, even if we were all out of our comfort zone. I really appreciate that. He has been a great supporter ever since. We'll do more things with him next year.'
Isserlis is equally enthusiastic. 'My involvement began with my son Gabriel coming downstairs asking if I'd like to give some concerts at a café run by his friend. It was unusual, but perfect timing. I was curious, tempted. I then talked to Raffaello and found myself not only agreeing to give five recitals, but even to play two Bach suites, having told everyone that I would never play a Bach suite in public again. After several jittery weeks during which we didn't know whether the concerts would be allowed or not, they happened! It was wonderful, like coming home after a painful absence. I loved the space, the acoustics, the dinners (yum), the staff and the audiences. Many people were in tears. Not, I should admit, because of my playing, but because for many, it was not only the first live music they'd heard in months, it was actually the first time they'd dared go out in what felt like a lifetime.
'It was all very special, and I had many lovely, if distanced, conversations with people I'd never met before, who turned out be highly knowledgeable and enthusiastic music-lovers. Every night was a different experience, but always memorable. I hope that the Fidelio Cafe will flourish well beyond the current crisis. It is a unique place, that has so much to offer, and shows how much can be achieved through the enterprise and imagination of one man.'
The café's programme of events is planned until the end of February 2021. Musicians booked to perform include illustrious names: Nicola Benedetti, Stephen Hough, Angela Hewitt, the Doric String Quartet, to name but a few. Each concert lasts about an hour followed by dinner, the menu especially created and prepared for the occasion. Social distancing is observed with reduced capacity, tables are well spaced.
Read: How can musicians get closer to audiences during Covid?
Read: New concert series to launch in Clerkenwell
'Not only are we operating under extremely difficult circumstances, but also under an extremely uncertain outlook', continues Morales as he leans forward, anxiety in his eyes.
'From one day to another we could get shut again. What is really annoying is the 10pm curfew because we have to be incredibly strict about performance lengths. We have to ask customers to leave punctually. Initially, our artists would improvise after concerts, interacting with audience members, which they all loved.'
'Covid was, in an unexpected way, helpful to us. It provided a cultural void, of course, I don't take credit for that. What are other promoters doing? There is an audience out there and musicians who are desperate to perform. The situation is extraordinary. It creates as many opportunities as challenges. I have to take risks. Nothing is as before.'
How does Morales decide on the musicians to invite to perform? I ask.
'I try to be as broad as possible when programming, covering all genres and instruments. I speak to people, I talk with artists, I look at options. This should be the place where everyone can play, so long as it is good music. All the musicians have been so enthusiastic, perhaps because I am the only employer on the horizon!'
The café is full this evening, but how does he attract an audience?
'Using the printed press, word of mouth, advertising on radio, we have sold almost all our seats. For the moment it does not make much money, it is a mission. We are showing that it can be done, that the model can work financially. Spinoza said, "Everything excellent is as difficult as it is rare." You don't just walk down the street and find paradise, it is a struggle. All the composers who we are celebrating, they struggled, their lives were not easy, but look what a legacy they left. If you want to make beautiful things you have to fight for them. There is a high chance that most people will not agree with you, but you have to convince them, create the context in which others can understand.'
'The problem is getting the world of music to understand that we need to reinvent ourselves. We must continue to provoke in whatever circumstances allow. We have to find ways to involve more people, new ways of communicating our art. The arts have always been provocative and should continue to be so. Run concerts wherever and whenever you can! In schools, bars, indoors, outdoors. Inspiring others requires us to be lucid, concentrating on what we are doing, regardless of circumstance. Energy must be directed into creating new concert environments, rather than complaining about the lack of performance opportunities. Sticking with things the ways we are used to, we do damage to ourselves. There are lots of opportunities out there, and one just has to believe in the core values of the music we are making. This is London, the city of creative spirit, of talent, multicultural contribution, and what has been done? Musicians are stranded, music making is almost dead. We must fight this with all our means.'
Morales is defiant, even combative.
"Freedom is not about doing whatever you wish, it is about understanding how your individual contribution in a community can benefit you and society. We are dealing with an expressive product that is incredibly ephemeral and ethereal. People are stuck with their heads in their phones, presented with thousands of options. Here at Fidelio Café we are asking them to listen to Mahler arranged by Schnittke. We have to communicate in ways that people want to come to us. People don't want necessarily to go to a concert hall for two hours. The concert hall gives me a sacred feeling, but we have to understand it can be intimidating to many.'
I am impressed by Morales' passion and vision, but above all by his sheer hard work.
"Of course, I have moments when I shut the office door and I am alone, I can cry and bang my head against the wall, saying to myself what the hell am I doing? But in public I am completely professional. Thankfully, I have a great team behind me.
"Today we are working with incredible musicians. My chef comes along and says, "We need to use the blender". I tell him there is a rehearsal so, maybe, please, wait until the rehearsal finishes. Then the Schnittke arrangement of the Mahler piano quartet fragment explodes all over the place and the musicians joke that the chef should have joined them with the blender. Everybody laughs.'
Morales concludes by looking to Beethoven for inspiration. "The opera Fidelio reflects the human ambition of self-affirmation, borrowing from tradition to establish the modern, challenging form whilst retaining essence. So long as we talk of freedom, Fidelio will be relevant to human societies.'
For more information on the Fidelio Orchestar Cafe visit: fideliorchestra.art