In this extract from September 2012, violin professor Felix Andrievsky shares how Paganini's Caprice no.2 is an excellent tool to develop your right arm technique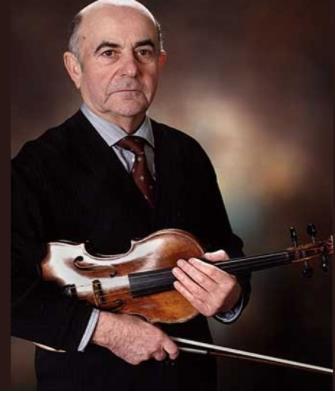 This is an extract from the article 'Pedagogues' top studies: Etude of choice' which appeared in the September 2012 issue
FELIX ANDRIEVSKY violin
TEACHES AT Royal College of Music, UK
STUDY Caprice no.2 in B minor from 24 Caprices for Solo Violin by Paganini
I believe that studies give students the explanation behind a technique – the basic principles. But the technique itself is not developed until they are playing musical works. For a player to learn technique, the basic elements need to be played in a variety of combinations, not just in a single way – a bow stroke like spiccato, for instance, can be played loud, soft, fast, slow; diminuendo, crescendo, accelerando and more.
But of course, we do need the building blocks and there are great albums of studies, such as those by Kreutzer, Dont and Wieniawski but for me, Paganini is the best. Although he composed his caprices as studies, they are incredibly musical. They include beautiful melodies that imitate wind instruments, groups of stringed instruments or different emotions and cover every possible technique and and every imaginable variation.
The greatest caprice is no.2. It's the best medicine conceivable for string-crossing, spiccato and the right arm. Paganini wrote 'dolce' at the beginning, and despite the difficulties this involves for the player, listeners should feel like they are eating chocolate or honey. Although it is written in semiquavers almost all the way through, the melody follows the quaver. It starts a little bit sadly in B minor, and then becomes happy in D major. It's a very beautiful line. The tempo is not fast, it's moderato, and it's not a question of brilliance or speed. It's about delicacy.
The spiccato stroke needs to be played between the middle of the bow and the frog, and because of the dolce marking it shouldn't be too short, but it should have an element of détaché. Holding the bow so low down is difficult, and you need to have control of all the joints in the right hand. All the little tendons in the hand, wrist and arm are involved in moving the bow from left to right. You don't hit the string – it's more a case of pushing and pulling.
Read: Pedagogues' top studies: Etude of choice
Read: 'I value them as supremely sharp tools' - Colin Carr on Popper studies