The French jazz violinist–composer has recorded his 1976 piece 'Renaissance' three times – but it's the original version that remains close to his heart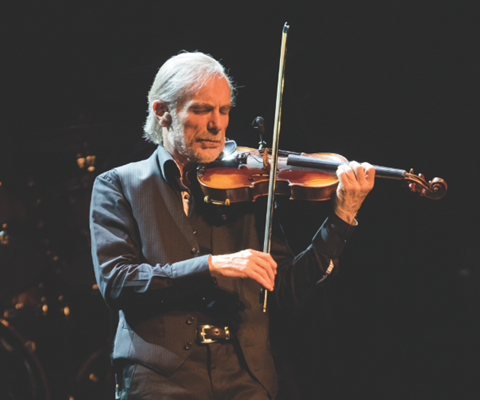 Jean-Luc Ponty: '"Renaissance" is a very simple piece at heart' © Kevin Raymond
'Renaissance' was the second track on my 1976 album Aurora. I had no idea at the time that it was going to be my first big success, or that it would still be played on radio today – it wasn't my intention to write a hit, as I've never known how! It's hard for me to say why it took off the way it did: I think that somehow the piece looked back to my youth, and had a kind of European feel that might have appealed to people.
It was conceived in a different way from anything else I'd ever composed. I was flying back to Los Angeles after finishing a European tour, and the first few bars of the piece came into my head. That's happened before, but this time I could hear the specific instrumentation – the melody was being played pizzicato on a violin, while a cimbalom was performing the same line alongside it.
I'd been to Eastern Europe in the mid-1960s and heard gypsy bands playing with a cimbalom, so I must have picked it up from there. Then a few days later, while I was driving through LA, I heard the next eight bars, then another sixteen, and it all stayed with me. Several weeks after that, we were recording Aurora in the studio and even though I knew this piece didn't fit with anything else on the album, I decided to record it. I ditched the electric violin I used on the other tracks, and picked up the Charles Jacquot that my parents bought me when I started at the Paris Conservatoire.
I found an autoharp, which was the closest equivalent to a cimbalom that I could find in Los Angeles, and I asked the drummer to play a regular beat on the kick drum. Since he wasn't using his hands, he picked up a bell tree and began adding some colours that way. I knew 'Renaissance' was totally different from all the other tracks, but I thought it worked anyway.
I was working with a new band at the time; we were still getting to know each other, and all at the start of our careers. On piano we had Patrice Rushen, who'd trained as a classical pianist and contributed a beautiful solo improvisation – and she was only 21 at the time. It was also the first time I'd played with Daryl Stuermer, who performed on two more albums with me before joining Genesis as lead guitarist.
When Aurora was finished, I must say I doubted if it would be successful, as it sounded like nothing else on American radio at the time. But on its release, it was 'Renaissance' that got the most airplay – on all kinds of channels, from jazz to folk and classic rock. It was a unique thing: it didn't belong to any one genre, so DJs from every quarter could play it. The sound, the beat, and the whole feel of the piece seemed to catch on; I think it's a very simple work at heart, and maybe that's one reason why people embraced it.
Most of 'Renaissance' is improvised. After the introduction you hear the melody, which acts as a kind of second introduction, leading into the section where the rhythm pattern begins. Then the melody comes back with a few different notes, after which Patrice and Daryl go back to the top, playing the same chords on which we start improvising.
I've recorded different versions of the piece, the first in 1995 for a recording with guitarist Al Di Meola and Stanley Clarke on double bass. The album was called The Rite of Strings – I'm not sure I liked the title very much, but it shows the respect jazz musicians have for Stravinsky! In 2011 I did another version with a great piano solo by Chick Corea. But I know that the 1976 version is still the one that gets the most airplay on the radio, and which means the most to so many listeners.
This article was published in the February 2020 Ébène Quartet issue

The Ébène Quartet marks its 20th anniversary with a worldwide Beethoven tour and live recordings, and talks about the challenge of finding a new violist. Explore all the articles in this issue.

More from this issue…