The American cellist shares the story of his cello - one linked with the history of his family, and their experience as Jews living in Austria during the Second World War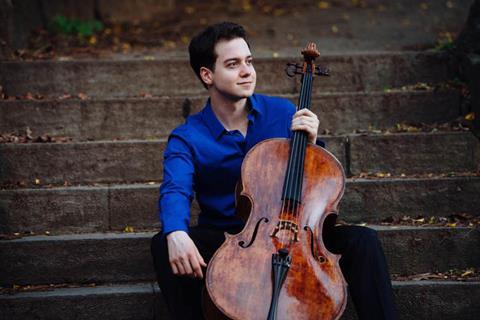 When my grandfather, Dr. Robert Popper was 29 years old, he and his brother Siegfried realised that the country they lived in was changing in a way that was becoming increasingly inhospitable to them. As young Jewish men living in the mountain town of Innsbruck, Austria in the late 1930s, they experienced firsthand a level of anti-Semitism that was ever-present preceding and during the Holocaust. Most physicians in Austria were automatically granted positions at hospitals after completing their medical studies, but for Jews this was impossible. My grandfather spent 16 months in an unpaid position without any real responsibility as a visiting doctor called a 'hospitant' with no road to employment. He decided to enter dental school, but his plans were interrupted by the Nazi takeover in 1938. Almost overnight, the country had changed and red flags with swastikas were hanging from most houses. Jewish storefronts had signs marked 'JEW' driving away potential customers from even entering. My grandfather and his brother saw the proverbial writing on the wall, and they made the difficult but lifesaving decision to leave their home country.
Just seven weeks before Kristallnacht they fled Austria and Europe never again to see their parents, close friends, or other relatives. Using a Nazi travel passport and transit visa bought on the black market, my grandfather travelled through Germany in a train to Lithuania and then Latvia where he awaited a sponsor who could certify his immigration attempt to the United States. On Kristallnacht, the Nazis came to his parents' house on Beethovenstrasse pounding on their door at two in the morning. They were taken outside the city limits and thrown into the deepest part of the ice-cold Inn River. Julius Popper, who was blind in one eye, and his wife Laura pretended to drown and swam to a nearby factory only to be reported and jailed soon after. All the houses on their street were raided and demolished and families were beaten or killed with crowbars. Their cousin Erna Low was taken to Auschwitz and then Ravensbruck with her daughter. They were later led on a "death march" to Mecklenburg where they were eventually rescued by Americans before nearly starving.
Music was central to the lives of the Popper brothers from a young age. Robert, a fine cellist, and his violinist brother played chamber music on weekends: string quartets, piano trios, and sonatas with piano. He also performed with the Innsbruck Symphony on several occasions. This musical influence proved to be extremely serendipitous in his journey as it aided in finding a sponsor who also loved music to facilitate his travel to the US. He contacted an American named Robert Halpern, who had played chamber music with the Popper family while traveling through Austria. Halpern could not sponsor him but found a businessman named Charles Weiner, owner of the Chicago Printed String Company, who offered to help the Popper brothers. To avoid Germany, my grandfather left Latvia on an eleven-day journey as the only passenger on a cargo boat through the Baltic Sea around Denmark to Belgium. From there he took a train to Paris and to Switzerland to get instruments, jewellery, and coins that had previously been smuggled out. The smuggler was an American student, Richard Hoefener from St. Louis, who was biking through Austria. The Popper family had befriended him and in exchange for housing and translating he made multiple trips across the Swiss border to store the instruments with friends of the family. The Nazi border agents kept looking inside the cello to see if something else was hidden.
Read John-Henry Crawford wins 2019 Carlos Preto International Cello Competition
After recovering the instruments, my grandfather had a large hinged wooded crate built for them which was shipped directly to England to avoid an import duty when he had to travel back through France. Before Kristallnacht, he smuggled his mother's jewellery out by having hollow toilet paper rolls made to house the jewellery and swapped out rolls in the wash closets of a train going to Switzerland. Robert left England for America on 26 March 1939 with his instruments, a few surgical tools, some of his mother's linens and jewellery, and the money in his pocket. When he landed in New York, he obtained a license to drive taxis, apprenticed with a sign painter, and worked as a dental assistant for $12 a week to pay for his rent and food. While doing this, he played chamber music with his brother Siegfried who emigrated after being interned in England during the war. He also performed in the Doctor's Orchestra of New York. After many attempts, Robert passed his medical exams in English and worked as an intern at the Edgewater Hospital in Chicago. It was there that he provided medical assistance to Charles Weiner, the same man who signed his affidavit to come to the US. In doing this he was able to repay the person who ultimately had saved his life. After moving to Memphis, TN where he was chief of Anesthesiology at the V.A. Hospital for 38 years, my grandfather played more chamber music with his wife Maryanna Popper on piano and longtime concertmaster of the Memphis Symphony, Joy Wiener. He enjoyed music and the cello until he passed away at age 91 in 2000.
My grandfather's lifelong cello, one of the instruments smuggled out of Austria, is the cello that I now play on. Purchased in Vienna in 1918, the 'Popper' cello has now been in our family for over 100 years. With no label of its maker or papers pointing to its origin, the provenance of the instrument has remained a mystery. The only clues so far have been an inscription written in Czech on the upper block inside the cello that reads 'Opened 1876,' and a dendrochronology report dating the latest ring of wood to a tree cut in 1827 in the Bavarian Alps. Wood from that region was exported all over Europe at the time, so the mystery remains unsolved. Since the cello and I became musical partners in 2006, it has resided in Philadelphia, Chicago, and New York and has visited Brazil, Costa Rica, Mexico, and Russia. It also travelled full circle back to Europe for performances in Paris, Dresden, Brussels, and even Switzerland where it was previously hidden for safekeeping. From its humble beginnings in an Austrian household, this cello has now been played in places like the Auditorium du Louvre and with the Philadelphia Orchestra at Verizon Hall. Not only is its history impressive, but so is its sound, frequently being compared to fine Italian instruments. After hearing its singing, focused sonority many listeners' first question is 'What is that cello?'
As I approach the age that my grandfather was when he fled the early stages of the Holocaust, I find myself increasingly grateful and indebted to him for the struggles he endured and the fear which he faced. I will never know what these experiences felt like, what kind of horror his parents felt being taken by Nazis, or what his cousin Erna Lowe felt enduring the harsh torment of multiple concentration camps, but their memory and legacy is hugely impactful to me. This instrument serves as a reminder and an artifact of proof of what transpired during this extremely dark time in history.
I often wonder if my cello could talk about its travels, what it might say having witnessed these events unfold. While it may not be a person or speak our language, its voice inspires me daily and I hope that it can speak through music on behalf of those who endured the unbearable and that their voices can be heard through the music it projects.
John-Henry Crawford's debut disc with music by Brahms, Ligeti and Shostakovich was released last Friday. For more information, visit https://www.orchidclassics.com/releases/orc100166-john-henry-crawford/