The multi-faceted cellist and composer shares how her Jamaican heritage influenced her piece Island Suite, commissioned by the Solem Quartet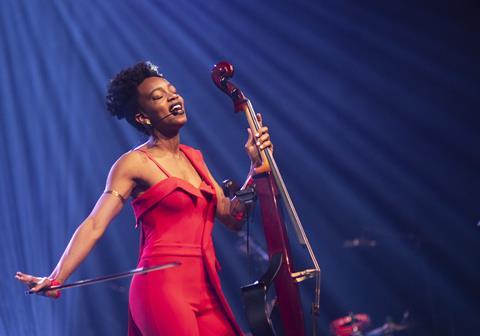 Explore more Featured Stories like this in The Strad Playing Hub
Some of my earliest memories are of me and my mum singing Jamaican folksongs around the house and in the car. It always felt fun to lean into expressing my Jamaican Patois in this joyous way. I also spent summer holidays in Jamaica as a young child, up to six weeks at a time and would listen to stories on long journeys that my grandparents and cousins would tell.
I had the great privilege of being on an episode of BBC World Service's The Forum show celebrating women of African and Caribbean descent alongside Jean 'Binta' Breeze, Maggie Aderin-Pocock and Nana Darkoa Sekyiamah. I had read some of Jean's poetry but was blown away by her performance of Simple Tings in person. She later allowed me to set some of her poems to music for a piece commissioned by the vocal group Voice. Growing up my mum bought me one of Benjamin Zephaniah's books called Talking Turkeys and I just loved it! The humour, the rhythm, the unexpected characters. Just delightful! I have referenced both Jean and Benjamin at the end of Island Suite as a nod to how they have inspired me and contributed to the lineage of Jamaican storytelling traditions.
Primarily I use a mixtures of ricochet, spiccato and col legno battuto techniques to create a range of rhythms that are inspired by some traditional Jamaican drumming styles as well as to evoke the various emotions that arise in the piece. I love that I've been able to explore my heritage in this way. As my wonderful collaborators, the Solem Quartet have said, 'Beethoven drew on songs handed down the generations in many of his lieder, and the likes of Schubert and Schumann followed suit. Béla Bartók was passionate about recording and reinventing the folk music of Eastern Europe, his native Hungary in particular.' I believe I have the opportunity to continue this tradition in this collaboration.
Stephanie Tress, the cellist from the Solem Quartet has generously said about my piece, 'In Island Suite, Ayanna has followed in the footsteps of some of the greatest composers, but in a way that is totally unique to her. The result is amazing - touching, at times humorous, always totally captivating; we're enormously proud to have commissioned this incredible piece!'
Ayanna Witter-Johnson and the Solem Quartet will appear at 'Beethoven Bartók Now: Experiments' at 7.30pm 20 July, Wilton's Music Hall. More information can be found here.