In celebration of the 100th anniversary of renowned tango composer Astor Piazzolla's birth this month, Argentine violinists Rafael Gintoli and Gabriela Olcese pay tribute to him and offer basic guidance to violinists on how to interpret tango music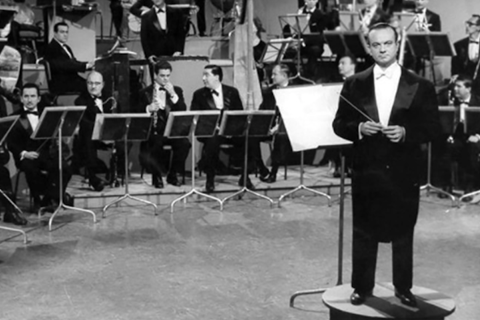 The following is an extract from an article in The Strad's March issue marking the 100th anniversary of Piazzolla's birth, with details on his life, and tips on how to play his tango music. Click here to subscribe and login. The March 2021 digital magazine and print edition are on sale now.
It is beneficial for those interpreting tango music to keep in mind the conversational inflections and rhythms of the porteños (inhabitants of Buenos Aires) – their accents, how they end their sentences, and their general character (they are known for a sense of nostalgia that mixes hope and frustration). Most important in terms of capturing these moods is bowing technique. It is the bow that sculpts each musical phrase, sometimes achieving very blurred sounds, sometimes highly articulated ones. Generally, two contrasting techniques are used in tango: a fluid handling of the melodic lines by using the whole bow to create a variety of colours; and very accentuated, short strokes predominantly played at the frog.
Watch: Claudio and Oscar Bohórquez and Gustavo Beytelmann play Piazzolla
Read: Fundacioin Astor Piazzolla announces inaugural Piazzolla Music Competition
Watch: Mexican cellists play Piazzolla
Left-hand technique must be of a refined nature, being capable of a sophisticated use of vibrato that can emphasise accents and rhythm as well as develop the melodic line. Sometimes the violinist is called upon to play entirely without vibrato followed by a fast and incisive one. In moments of lyricism and melancholy, it is important to use a moderate type of vibrato, placing the fingers softly on the fingerboard to produce a dolce and cushioned melodic line.
When performing with piano (or bandoneon) and double bass (in the manner of a Baroque basso continuo), the violinist needs to feel a strong down-beat so that they can more easily take advantage of the rhythmic freedoms offered by the tango tradition, bar by bar.
Rafael Gintoli and Gabriela Olcese have recently created an online Violin for Tango course through iClassical Academy (bit.ly/3qU1Kf7), recorded in Buenos Aires with a team of tango specialists playing on authentic instruments.
This article was published in the March 2021 Francesca Dego issue

The Italian violinist is granted the rare opportunity to record on Paganini's 'Il Cannone' Guarneri 'del Gesù'. Explore all the articles in this issue.Explore all the articles in this issue

More from this issue…