Following the discussion of the effect of the Black Lives Matter protests on British orchestras, London Mozart Players violinist Victoria Sayles reflects on the issue of diversity in the classical music industry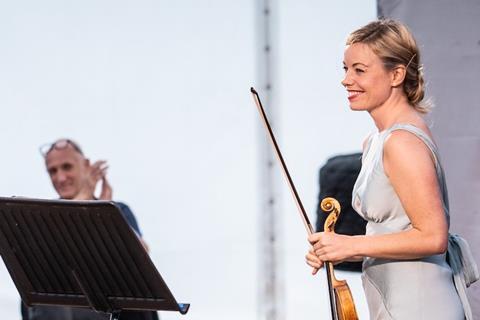 Roger Wilson, Director of Black Lives in Music, invited me to join him at this year's Association of British Orchestras Conference (which took place online last week) to speak about the aftershock of George Floyd's death on the classical music industry. This appalling incident had a very profound impact on me and other members of the panel: Chi-chi Nwanoku OBE and Linton Stephens.
I was being asked to reflect on the effect of George Floyd's death on UK orchestras including the musicians within them. The four of us were there to discuss the impact of racism and discrimination within our organisations and the industry as a whole. I attended the conference with nervous anticipation having responded to Roger's invitation, with the same two words used for the UK's most recent diversity audit tool: 'I'm in'.
My job, as first violinist in London Mozart Players (LMP), meant that my perspective for this debate was as a member of a white majority orchestra holding a residency in Croydon, one of London's quintessentially diverse and cosmopolitan boroughs. LMP's appetite for change in terms of diversity and inclusion practices for Black musicians and, as the government would put it: 'BAME' communities, was the premise for this debate.
It was not easy. We were addressing the systemic racism both inside and outside the industry. I know how deeply felt this is and we still have a long way to go in terms of inclusion and achieving our goals for change, especially when it comes to structural racism, decolonisation of repertoire and diversification within our organisations. This topic can provoke fraught discussion, alternatively complete avoidance or more commonly; shame. Roger Wilson, Director of BLiM, invited me to join him, Chi-chi and Linton because he saw value in adding another voice and viewpoint to raising awareness around these issues.
Read London Music Masters names first organisations signed up to diversity audit tool
Watch Sheku Kanneh-Mason's parents on raising confident black classical musicians
Read Six composers of colour to write new pieces to be performed by 24 orchestras
I talked at length about strategising, realistic adjustments, broadening our approaches, appropriate role models, data capture, social media outlets and funding while all the time recognising that listening was our most important ally against racism within our industry. Listening to Chi-chi and Linton, I understood their experience and perspective as absolutely key to our future hopes for diversity in music. This is not to say that UK orchestras are not listening but are they willing to follow through and make real changes? Honesty about this takes a different kind of effort: the humility to say, "we don't have all the answers yet. What was your experience – what would you do?"
Posing these questions to musicians, such as Roger, who has been stereotyped and lived this problem his entire life seems absolutely paramount. How do we start to break down walls of fear and embed diversity deep within our organisations? We start by listening, building the foundations upon which we can bring about real change and, most importantly, be brave in how we answer a very direct question: what are we going to do about this?
Victoria Sayles is a violinist with the London Mozart Players: https://www.londonmozartplayers.com/
To find out more about the Association of British Orchestras and its 2021 Conference, visit https://abo.org.uk/