The great violinist was born on this day in 1782. Happy 239th birthday!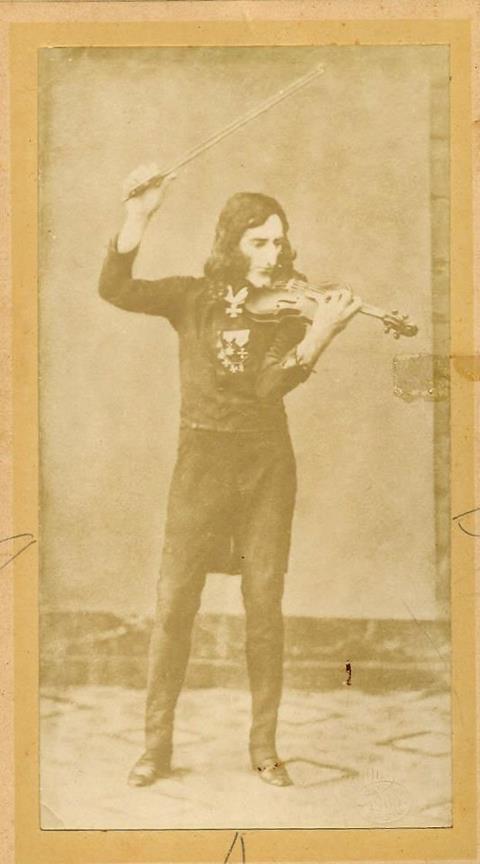 Niccolò Paganini was born on this day in 1782, in Genoa, Italy. He initially began his violin studies with his father, a shipping merchant who also played the mandolin. The young violinist quickly exhausted his father's abilities, giving his first performances as a child and touring by the time he was a teenager.
One of the most famous performers of his time, memories of Paganini are surrounded by mystique, with rumours circulating that he sold his soul to the devil for his uncanny violinistic abilities, as well as reports that his playing caused frenzy and hysteria amongst audience members. He was renowned having a unique flexibility and hand-span (it was suspected he was affected by Marfan or Ehlers-Danlos syndromes, disorders that affect connective tissue): he could apparently reach three octaves across four strings on the violin, which allowed him to achieve things on the instrument that other players struggled to do.
One could argue that players today still do: in a recent interview with The Strad, violinist Jack Liebeck says of Paganini's 24 Caprices, 'He didn't write them for other people to play, it was like, "Look at my ridiculous hands and what I can do with them". We as violinists have to get around that fact that it wasn't written for our hands, so at times you're doing things that feel horrible under the hand and very uncomfortable. We strive to make it comfortable, that's our work.'
Listen: The Strad Podcast Episode #15: Jack Liebeck on Ysaÿe Sonatas
Anyone who is familiar with life as a touring musician would know things don't always go to plan while travelling. Paganini embarked on a long career of solo touring, alongside his struggles with alcoholism and gambling. Here is a report from The Strad May 1893 issue, illustrating an on-the-road situation where Paganini didn't quite end up on top:
Niccolò Paganini always boasted that he never did anything for nothing, but on one occasion he contrived to overreach himself by trying to be too sharp.
While travelling he chanced to be caught in a great storm, and to have his carriage break down outside a country house. The owner of the house, a wealthy baronet, expressed himself proud to entertain the great artist, and sent out invitations for a big dinner-party to meet him.
After dinner a little girl, one of the host's daughters, took up a violin which 'chanced' to be in the room, and requested Paganini to play upon it. She accompanied the request with such a tender look of supplication that he could not refuse her.
Next day Paganini sent his secretary to the baronet to thank him for his hospitality, and at the same time, to present a little bill of £50 for his performance of the night before. The baronet paid without a word, and a little while afterwards Paganini's carriage started off.
Hardly had it passed the principal gate when two sturdy grooms advanced and seized the horses by the bridle. Paganini put his head out the window and asked what it all meant. 'It is from Sir So-and-So,' was the reply, 'a little bill of £50 for board and lodging received'. Paganini's face darkened over. Very slowly, without saying a word, the artiste took out his purse and gave back the cheque which he had just received.
Listen: The Strad Podcast Episode #4: Francesca Dego on playing 'Il Cannone'
Read: Paganini, the great violinist, is taught a lesson
Read: Paganini's 24 Caprices: achieving a musically informed performance