Violinists Maxim Vengerov, Leonidas Kavakos, Janine Jansen and cellist Julian Lloyd Webber share what it's like to play their Stradivari instruments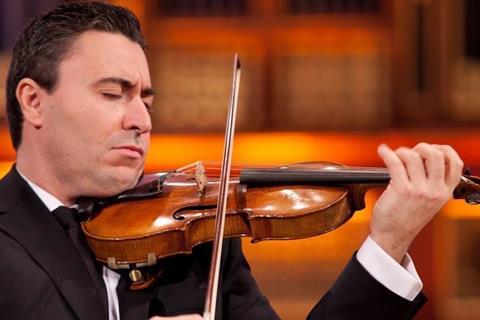 'During my career I have been lucky enough to play lots of violins by Stradivari, perhaps as many as 50. Some I just tried once, whereas others I played for longer periods of time. Many of my early recordings were made on the 1727 "Le Reynier", an instrument from Stradivari's later period that was loaned to me by the LVMH collection for a period of three or four years. Just like when I was ten, it forced me to reconstruct everything about my playing and taught me about interpretation and the Italian sound. I was only 18, but this violin really helped me to become an artist. It was a chameleon that was capable of producing so many different colours.
I changed to the c.1723 "Kiesewetter" Strad when I was about 22. Even though it was only four years older than "Le Reynier", the violins could not be more different – almost as if they were the work of two separate makers. Stradivari's genius and capacity for invention go beyond the understanding of the human mind.
With the help of my patron, Yoko Ceschina, I acquired the 1727 "Kreutzer" Strad at an auction in 1998. When I first played it I wasn't certain it would be the violin I would need for the rest of my career. Since it had a beautiful spectrum of colours but only a relatively small sound, I thought it would be perfect for chamber music. That seemed to be confirmed when I took it to Chicago for a performance of Shostakovich conducted by Rostropovich, who asked me about it during the piano rehearsal. "It used to belong to Fritz Kreisler," I told him proudly. "You know, Maxim," he said, without explanation, "maybe you should change it."
The problem was that the violin had been in a private collection for a long time and had only been played at home, or on the collector's yacht. It had retained much of its original varnish and was in wonderful condition, but no one had worked on its sound in a big hall for many years.
A good friend of mine, Israeli luthier Nahum Tukh, helped to optimise the instrument to suit its new purpose. He is a true magician, with fantastically sensitive ears. Thanks to his work I have been able to use the 'Kreisler' for most of my performances and recordings over the past two decades; the depth of its sound is impossible to describe. I am very proud to have worked with Nahum for such a long time, and am grateful to him for enabling me to become a musician who is truly alive in his work.'
Read: Maxim Vengerov: Me and my Strads
Listen: The Strad Podcast Episode #12: Maxim Vengerov on Ravel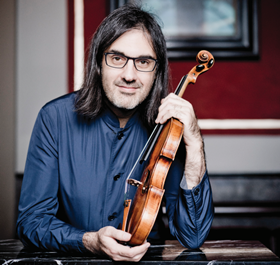 'The "Willemotte" is a very robust, powerful instrument, a huge model with broad f-holes, full arching and high ribs. It has a refined, perfumed kind of tone quality under the ear, yet when I hear someone else play it in a concert hall it has an incredibly complex, multidimensional character. It's super-sensitive, and responds to everything I try to do with it. Three years after buying it, I'm still discovering a spiritual, ethereal quality to the sound, which comes from everywhere and nowhere – it's a kind of presence that permeates everything I play. It never stops surprising me: I work on the sound non-stop, and often try different strings just to see what changes they make. Every time I start practising a piece, I'll spend one or two days experimenting with different bows, playing the same passages to find the tone quality I prefer. I've tried around a hundred Strads and Guarneris in my life, and the "Willemotte" is surely among the finest I've ever played.'
Read: 'It was like the earth moved beneath me' - violinist Leonidas Kavakos on playing the 'Willemotte' Stradivari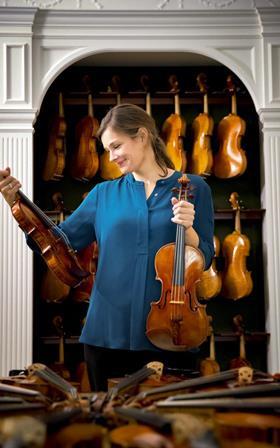 Photo: Una Burnand
Jansen admires her two favourite instruments of the set: her 'Shumsky, Rode', 1715 (left), and the rarely played 'Alard, Baron Knoop', 1715 (right), at Beare's in London
'First of all, I am really in love with the "Shumsky", which I feel fits everything. Of course, it was super attractive to play Vieuxtemps's Désespoir on Vieuxtemps's own violin. That piece's desperation really demands this amazing strength in the sound, and the instrument is a bit like a Ferrari – it feels like brrrm! – it kind of drives off with you! But that would not be the violin that I would want to be with all the time. I wouldn't be against spending more time with the "Alard", if ever possible, but I wouldn't want to have so many Strads lying around. I think it could mess me up, and anyway, how greedy would that be!'
Read: Janine Jansen: A spiritual connection
Read: Janine Jansen: Twelve chosen Stradivaris
'What immediately struck me [with the c1690 "Barjansky" cello] was the extraordinary quality of its A string and bass sound. It is also a superb instrument for recording, as you can come in really close with the microphones and it still sounds glorious. It involved a shift in playing perspective, because whereas with my previous cellos I had always dictated the sound, now it was more a partnership of equals. It is not an instrument that reveals its distinctive qualities immediately – you have to work with it for a while to discover how to get the best out of it. I played it with the greatest pleasure from 1983 until I was forced to stop playing in 2014. Now, I'm pleased to say, it has a distinguished new custodian – Kian Soltani.'
Read: 'On paper, it should have been a match made in heaven' – Julian Lloyd Webber on his struggle to find the right cello