Cadenza writing has enjoyed a renewed surge in popularity over recent years. In this article by Pauline Harding, two soloists - Dominik Wagner and Patricia Kopatchinskaja - talk about their individual approaches to writing cadenzas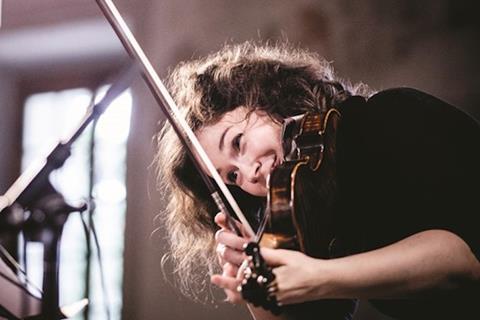 The following is an extract from an article about writing cadenzas in our July 2020 issue.To read in full, click here to subscribe and login.The July 2020 digital magazine and print edition are on sale now.
Writing a cadenza offers a unique opportunity to get inside a composer's head, to meld that state of mind with your own, and to show what you're capable of. 'You can ask yourself, "How can I communicate this in the best, most creative and truthful way for me?",' says Dominik Wagner, a 23-year-old Austrian who has been making waves in the double bass world. 'If you have a crazy left-hand technique, or if you have the most incredible sound, you can find ways to show that. Whatever your strengths are, you can use cadenzas to say things that are unique to you, that otherwise would never be said.'
It is this element of the personal that inspires Moldovan violinist Patricia Kopatchinskaja to spin her own imaginative magic on stage. Kopatchinskaja sketches out ideas before a first concerto rehearsal, then later selects adventurous-looking collaborators from the orchestra. When on stage, she uses those ideas like building blocks, deciding what to include as she goes, sometimes winding in references to other pieces in her programme in the process.
Read: Writing a Cadenza: Creativity Unchained
Watch: Augustin Hadelich performs his own Brahms cadenza
In one performance of the Ligeti Concerto with the Berlin Philharmonic and Simon Rattle, she asked the orchestral musicians 'to join me in the end tumult' of the cadenza, and persuaded Rattle to vanish so that she could pretend to hunt for him again towards the tutti. In a performance of Vivaldi's 'Tempesta di mare' at Hamburg's Elbphilharmonie, her cadenza incorporated crashing waves of orchestral unison, and 'wind and thunder machines', inspired in part by the Pirates of the Caribbean movies, in part by the painting Snow Storm – Steam Boat off a Harbour's Mouth, by J.M.W. Turner. 'I imagined being on a ship with Turner, overwhelmed by a blizzard,' she says. 'He wrote about his painting, "I did not paint it to be understood, but I wished to show what such a scene was like; I got the sailors to lash me to the mast to observe it; I was lashed for four hours, and I did not expect to escape, but I felt bound to record it if I did." Music should be overwhelming – that is when I really start to feel it.'
This article was published in the July 2020 Isaac Stern issue

Celebrating the great violinist's chamber music collaborations in his centennial year – with contributions from Midori, Pinchas Zukerman and Cho-Liang Lin. Explore all the articles in this issue.

More from this issue…