Bassist Christine Hoock shares examples of short pieces from double bass repertoire that can help players develop their sound and phrasing through balanced technique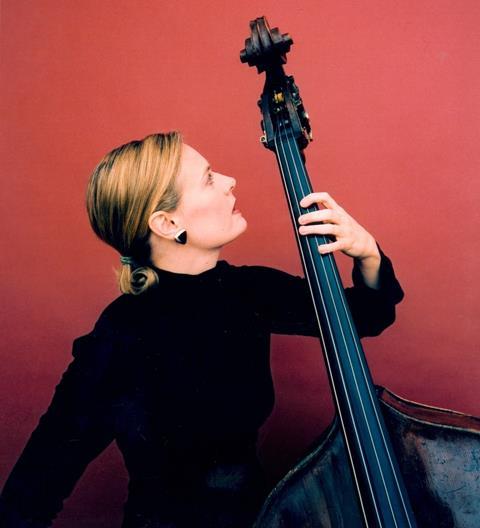 Explore more Featured Stories like this in The Strad Playing Hub
The following is an extract from the January 2020 issue Technique feature 'Sound and Phrase'. To read the full article, click here
Pieces containing sustained melodies will help you to internalise the technical skills you need to produce a phrase: arm weight, contact point and bow speed with breathing and vibrato for a beautiful sound and sense of direction in example 1; calm, portamento-free shifts and legato bowing in example 2; and all of these in example 3 or any Bottesini work, which are so influenced by bel canto singing. To work on chords and scales in a musical context, try Rota (examples 4 and 5). Teppo Hauta-aho (example 6) will help you to practise creating a sense of phrase that runs throughout a movement. Other pieces that I would recommend include Dittersdorf's Second Double Bass Concerto, which is great exercise for elegant string changes; the second movement of Bach's Violin Concerto in E major BMV1042, which is very demanding for double bassists; and Bruch's Kol nidrei, which requires great bow control. Finally, in Saint-Säens's The Swan, you can use a calm legato to create a big, focused sound as you sail through the changes in register.



IN YOUR PRACTICE
Record yourself to check whether or not the way you think you are playing actually matches reality. If not, reflect upon why not and what you can do to change it. Are you really using every last millimetre of the bow to bring out each climax? Are your crescendos and decrescendos moving from the middle of the bow, as they should be, or are you always being tempted towards the frog? Are you breathing? Take a step back to help you see what you need to exaggerate or correct. Familiarise yourself with the historical, social and artistic context of pieces as you decide how to interpret and structure each phrase; and notice how your favourite string soloists use their fingers and bows to develop their sound. You can also listen to the phrasing of great wind players for inspiration, or watch dancers to see how they use weight, momentum, bounce and elasticity to move through every phrase.
TIPS FOR TEACHERS
As teachers we must show our students how to teach themselves, while giving them the space to be individual and authentic. Give them a clear technical programme and show them how to draw on their technique to create every phrase; and emphasise that they must practise all techniques with the repertoire that they are learning in mind, to ensure that they are able to achieve them while taking musical direction into account. Encourage them to mark their etudes with dynamics and phrasing, set varied etudes and technical studies to approach the goals they have in their pieces, and make sure they can articulate why they are practising them. It can be fun to film them playing fast techniques, and then to watch them back in slow motion, so that their movements are clearly visible. This is motivating, and good for training self-control.